2) Kaladar to Sulphide Road


Total: 16 kilometres Running Total: 20.5 kilometres
Just south of County Road #41, more houses appear on your right. Note the massive number of hub caps behind the building at around kilometre 76.
An information plaque on the left farther along tells you about the white-tailed deer. I learned that deer lick their noses to keep them damp so that they can smell better — more olfactory molecules stick to their noses. That must be why dogs do a lot of nose licking too.
You'll see a little cottage on the right around this point. It seems to fit in the landscape a lot better than the one coming up after km 79.
The radio transmission tower on the right has massive cables buckling it down. I was impressed with my up-close take on it; there's a road and a house just to the south.
Highway #7 is close along this section and I again kept mistaking vehicle sounds for snowmobiles. I didn't meet any snowmobiles, but I was jumpy; I kept moving off the trail, only to realize, I was responding to the buzz of a truck in the distance.
Coming up to the 79-km point, the trail comes close enough to the highway to get to it easily in winter, across a marshy spot. In other seasons, I expect a spot farther south, near a rock outcropping would be a little dryer (although I haven't tried it). There are also a couple of little roads in this region that lead to the trail.
There are a few little turns in the trail after km 79, and a fairly new house appears through the trees on the left. There are hydro lines to it. It's a well-maintained house, with an unplowed lane leading to it; a strange place for a house. When I returned along the trail after dark, the house was dark, but a line of solar light dotted the roadway to it.
The house owner has posted two signs adamantly advising trespassers that they will be prosecuted "by [the] owner." He also bans fishing on his property. M. Amant de Poisson has also posted numerous little red circles advising folks that the trees, earth and water on the left of the trail belong to him. Beatty Lake (a pond, really) is just south of his property, as are stretches of open marsh, so I expect fishers are headed there. Unfortunately his signs make a person more aware of his house. Hopefully M. Amant de Poisson is more laid back in person than his signs suggest.
After this section, you can see a few little roads running into or alongside the trail. Unfortunately, there's a straight stretch of over three kilometres coming up. The area on both sides is beautiful with a couple of little bridges crossing creeks. Part of the trail is quite open here, crossing through the marshy area, especially on the right (west) side, with hardwood forest backing it all.
At one point, numerous snowmobiles passed me going at incredible speeds and kicking up clouds of snow. Be aware of this and either get well off the track (over six feet off and the snowmobilers are unlikely to see you) or make yourself known on open areas where it's harder to get safely off the trail without heading down a steep embankment..
On my map, "Otter Creek" is listed as being just north of kilometre 84 on the trail. There's a falling-apart shack just off the trail, with a couple of rotting benches inside. Perhaps that's all that's left to remind us there was once a stop here.
South of this point, the landscape goes through a lot of marshland, with outcrops of rock in between. If you look on the map, the terrain is increasingly marshy to the east. Only 4.5 kilometres away as the crow flies is Little Mellon Lake and the Sheffield Conservation Area. There must be a trail that winds through from the Trans Canada to this area; it's. an interesting challenge to investigate sometime.
At roughly the 85 kilometre point, there is an old barn and house on the west side. The house was empty when I passed by, but it looked as if it might be used. There were curtains in the windows, but a certain disrepair hung about the place. There were no tracks in the snow. It's difficult to see how a person could live so far off the beaten track. A little road leads away from the house and back toward Sulphide. If you're doing this as a day trip, the road has more interest here than the trail and it might be worth stepping off and investigating it. In the winter, this section of road is used (by tractors and snowmobiles, perhaps?), but it is not open to cars. In fact, it could be dodgy driving a car on this section at any time of the year. The walk is pleasant, with the trail disappearing to the right and a sharp drop to a marshy plain to your left. Just over 2 kilometres from the house, the road opens up a bit and there's a garage and house on your left. It's best to head back to the trail at this point as the road opens up slowly here and moves away from the trail. (Be warned: getting back to the trail might involve dodging some wet spots. There are also signs of cattle about in places, so take care. There is a farm on the right a little farther on, with a road leading back to the trail, but you'd have to ask permission to travel that.)
If you stick to the trail, you'll pass by a little pond on the other side of the trial from the house. A little bridge gets you over a creek. On your right, a marsh and creek will keep you amused.I heard a distinct waterfall at one point and could see what I thought was falling water through the trees. However, water by the trail prevented investigation; the ice looked none too secure.
Between the 87- and the 88-kilometre point, you'll see a farm on your left. There were cattle looking mournfully at me on the right. Just before the 88 kilometre point, the trail curves a bit. A curve! Haven't seen such a curve since, since kilometre 84.
Despite the ongoing monotony of a too-straight trail, this section has some variation. The trail cuts through the rock at points and the bush on either side is varied, with lots of marshy areas. Sulphide Creek on the right (west side) and the West Fork of Otter Creek on the left provide lots of interest, with rocky ridges cutting through much of this. There's still a feeling here that we're still in northern regions; as we get closer to Tweed things get a bit more civilized. It's a privileged position to be in: without the elevation of the trail, it would be difficult to see this bush interlaced with streams and marshes.
At "Hungerford," now just a dot on the map, Station Street will be just off to the left. There are a couple of houses here. If you need to break up this walk, you can park at the end of Station Street and bushwhack (including traversing a bit of wet area) a short distance to the trail. Station Street runs off Sulphide Road 1.7 kilometre north of where the trail cuts across the road, and just past where Otter Creek Road meets Sulphide Road.
As you get closer to the junction with Sulphide Road, the trail cuts through some rock, then rides high on a ridge, with the land dropping off to your left, into marsh and sometimes rough field. It's a great vantage point and almost makes you forget the straight run you're on. You'll see Sulphide Road angling in on the left and a couple of buildings just before you reach the road itself.
Description: February 14, 17, 22, 2009
Rating: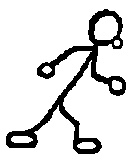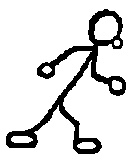 3) Sulphide Road (northern crossing) to Tweed