4) Bonarlaw to Harold Road
Total: 6.6 kilometres
Running Total: 35.4
At Bonarlaw, the westward-bound trail cuts sharply southward, using the Hastings Heritage Trail to drop down before it continues westward to Campbellford. The trail, as usual, is too straight for comfort, but rides high through farmland, bush and a lot of marsh.
When I walked it on April 5, 2009, the Hastings Heritage Trail northward from Bonarlaw was a wide south-flowing stream. A heavy rain a couple of days before made walking this section along the built-up sides of the trail difficult, although we (I walked to Spring Brook Road with Carol, my wife) saw a couple doing just that, as well as a couple of ATVs ploughing northward through the water. We headed southward.
After crossing St Mark's Road (or St. Marks, depending upon what literature or sign you're reading) it's a pretty straight run to Spring Brook (or Springbrook, depending again on the sign you're reading). There are a few houses lining St. Mark's Road.
Partway along this section, we saw Holstein cattle off to our right. In the spring, the cattle wade through marshland, munching on the surrounding grass, and drinking and defecating in the water. Not a pretty sight.
The trail curves very slightly, particularly at its southernmost part. On the sunny spring Sunday afternoon we did this bit, there were numerous ATVs, usually in groups of two or three, heading in both directions. All were travelling at reasonable speeds. A motorcycle also passed us on this section.
Despite this, there are some great marsh sections and in the spring, the peepers were out in force along with ducks and other feathered creatures. We watched a couple of garter snakes sunning themselves beside the trail and wondered about the fate of several furry caterpillars running along the trail's tracks.
The trail bed is generally comfortable to walk, although, it can be a bit hard on the feet, with one stuck in a tire track and the other on the centre knoll ; switch sides periodically.
As you come up to Spring Brook Road, you'll see houses to your left and a farm on the left just before you reach the road. There's a dilapidated outhouse in a little parking lot beside the trail. Don't use it; it's disgusting.
Shortly after Spring Brook Road, the trail cuts into the hillside and for a brief while, you don't get to see much of the countryside. However, in a short while the banks open up a bit. There are all sorts of tantalizing trails heading off on each side. The red circle indicating private land is also prevalent.
When I walked this section northward (as part of a day's loop), about one kilometre south of Spring Brook Road a murder of ATVs came toward me on the trail, so I decide to head to the west and follow what looked like an old horse trail through the woods and around some wet spots. It eventually petered out and I did a short bit of bushwhacking until I met a fence that led me back to the trail. All along this little side trail where choices I could have made and I happily buried myself in the woods for a while — a welcome relief from the straightness and flatness of the trail. A great example of the joys of "getting lost."
As I rejoined the trail, more ATVs descended and I spent some time along the edges of the trail wishing I could spend more time investigating paths that disappeared into the bush.
At About 1.5 kilometres south of Spring Brook Road, McConnell Road comes in from the east. On my map it shows the road as coming as far as the trail, but it actually ends 60 metres before that and a rough gravel trail runs to the trail. On the west side, a dirt track continues down to the edge of Hoards Creek. Across the creek, I could see the path continuing. Definitely a route to explore when the water is lower, but the spring run-off water looked a little daunting.
Watch out for the underpass just south of the McConnell Road extension. It was totally dry and seemed made more for human passage than for water. I passed under the tunnel to the riverbank and watched a beaver for a while. He thrashed his tail a couple of times, but eventually climbed out of the water on the opposite bank and began loudly chomping at a bit of wood. I walked back under the tunnel and followed a trail that ran up the hill and off to the right.
This is a great area, with trails running here and there in the bush. Some sections were a bit wet, while others rose up to mini-meadows. I came upon a hunt camp at one point, made partly from an old trailer. It was in serious disrepair. At another point a pheasant strutted across a grassy spot.
This side trip was definitely a highlight of the day's walk. I'm guessing that there are many more fine trails on the west side.
Hoards Creek appears a couple of times as the trail takes a welcome curve before the straightaway into Harold Road. Hoards Creek is host to a large community of wildlife and a quiet sit by the riverbank is certainly rewarding. The creek flows eventually past King's Mills Conservation Area, through the hamlet of Hoards Station (where one of the province's few cattle sales barns still operates) and empties into the Trent River. Like nearby Rawdon Creek, it is one of a complex of streams and marshland that feed the Trent River.
Rating: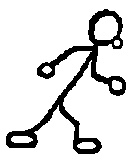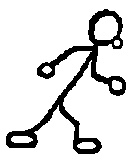 Side trails south of Spring Brook Road: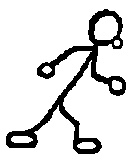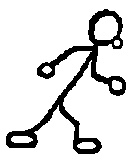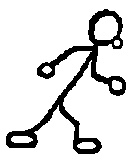 Easy.
Walked: April 5, 10, 2009
5) Harold Road to Anson
Total: 9 kilometres
Running total: 44.4


South of Harold Road, Hoard's Creek crosses from the west, then bubbles along merrily, just east of the trail. In the spring it has little rapids and nice "mini-gorges" (very small cuts into the land) that are well worth checking out. Take a tour across the flat rocks to your left to check them out.
It's pretty straight going to Wellman's Road (County Road #19). Just before you reach Wellman's Road, you'll parallel Hoover Road for a short stretch. Again, about 700 metres before the road, cut left to enjoy Hoard's Creek again. In the spring, all sorts of little rivulets empty into the creek. There's a particularly nice min-waterfall (by which I mean two feet high or less) hiding under a bush here in the spring.
South of Wellman's Road, the trail passes over a little creek that is dry most of the year, followed by a larger bridge crossing Hoard's Creek once again. Then, as you approach King's Mills Road (or "Kings," the problem with possessives never leaves us), the trees thin. After you cross the road there is little protection from the sun as the terrain opens into rolling fields.
After King's Mills Road, the trail angles a bit to the west and crosses Coutts Road (a north-south road). It then parallels Coutts south to Barrett. When I walked this section (on the northward part of my round trip), two ATVs had switched off the trail and onto Coutts, where they could spread out into both lanes and do a bit of racing. As usual, the machines were loud and obnoxious. Thankfully they were not on the trail when they roared past me.
Just before you reach Mount Pleasant Road, you'll see an apiary, with a collection of hives set out in a clearing. On the warm day in late April that I walked this section, the bees were already busily going about their business.
South of Mount Pleasant Road, fields dominate. Human-made ditches run down both sides of much of the trail, with more ditches running across fields, draining water from the land. Notice too the old water troughs (at least I think that is what the rectangular open boxes are.)
To smooth out excessive bumps or wet spots, parts of the trail to Anson have been covered with gravel made up of largish stones. It's just a nuisance for a walker, but it would be no fun for many bicyclers.
As I finished my walk on an early May evening, three vehicles, a car and two trucks, set off at a pretty good pace, heading north up the trail from Hoard's Road. The car led, bouncing up and down in the ruts. Earlier I had seen a muddy, dented unlicenced car with bashed-out back lights sitting behind a shed at 476 Hoard's Road. A quick check revealed that the car was gone, with new tracks in the trail showing where it had gone.
This busted car made plenty of noise, a bonus I suppose for any walker on the trail. A car with a muffler could take a walker by surprise. Nevertheless, I was glad I was off the trail as this kind of activity is a recipe for disaster; in any collision with a walker, the latter will always lose. It's wise to remember that these sections of the trail are no different than country backroads for a few local drivers.
At Hoard's Road, Weaver's Cemetery sits high on a hill just to the north-west of the trail. Unfortunately, the gate is locked. Someone has cut a hole in the wire of the gate.
There are some interesting stones in this graveyard dating back to the mid 1800s.
We leave the Hastings Heritage Trail at Anson. After crossing Hoard's Road, a bit of road/trail curves off to the left (east). This is simply the "on ramp" to the trail you'll shortly meet to the south. If you head east on this east-west trail, you'll run into Madoc Junction, where the Trail of Two Lakes Runs north to Madoc, and another trail runs south into Belleville. However, the Trans Canada turns right (west) here and heads for Hoards and then Campbellford. I've noted this crossroad as Anson.
Rating: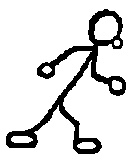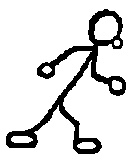 Easy
Walked: April 17, 29, May 2, 2009
6) Anson to Hoard's Church Road (Hoard's Station)
Total: 6.4 kilometres
Running total: 50.8


After just over half a kilometre, the trail crosses Anson Road. Hoards Road curves away to the north and the trail parallels Merrick Road for a short while. At the juncture of Hoards and Merrick roads, you'll see the old Central cheese factory off to your right, one of the smaller independent cheese-making companies that didn't make it into the 21st century. Hastings County once had 63 independent cheese factories. It now has two.
The next 2.2 kilometres to Spencer Road takes you on a pleasant stroll through farmland, with bushes lining the trail most of the way. Wafts of lilac came at us (I walked this section with my wife Carol) at points and a couple of apple trees in blossom also deserved a closer smell. A farmer was tilling his field at one section, and nearing Spencer Road, we had a good talk about walking with another farmer who had walked sections to the west.

From Spencer Road, the farm theme continues, with barns and farmhouses and well-kept fields on both sides. About halfway between Spencer Road and Hoards, the trail cuts through forest and some marsh, with fields lurking in the background. A power line passes overhead at one point, with towers stretching across the fields.
Round bales in a very trim field east of Hoard's Station.

The trail angles to the north side of Hoards Road (County Road 8), then crosses Hoards Creek on a separate wooden bridge with a surface that needs a little work. At Hoards Road, we move into Northumberland County, into the municipality of Trent Hills, a conglomerate of urban and rural communities that includes Hoards Station.
Beyond the bridge are fields on the right (north) residences on the left, followed by small grain silos that are part of Hoards Station. At Hoards Church Road, there is a garage on the left and a United Church with a little cemetery just off the trail. (Take care: on some maps this road is misnamed "Hoards Road.")

Farms on this stretch look more prosperous than their cousins farther east.
In May and June, with the fields a rich green, and cattle lazing on hillsides,it made for almost cliché pastoral scenes.
A classic rural scene. Barns, cows, an early evening in June. Very peaceful.
Somehow, Brueghel's painting of Icarus comes to mind: everything so still and beautiful and normal. We did not see Icarus falling from the sky; our world is still intact.
Rating: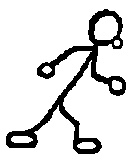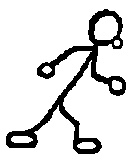 Easy.
Walked May 2, 23, June 24, 2009
7) Hoards Church Road (Hoard's Station) to Burnbrae Road (6th Line East), just east of Campbellford
Total: 9.4 kilometres
Running total: 60.2 kilometres

Pick a fine early summer-evening, and this next section can be magic. It's pretty well all field and farms, with a strip of bushes and trees along the rail bed. A little bit of forest comes in briefly as you near the 4th Line and there are short sections where the bed rides low and you can't see the fields above.
Have a look at the bell at Hoards United Church at the beginning of this section. It was cast locally by one "Mr. Bunce," according to the inscription under the bell.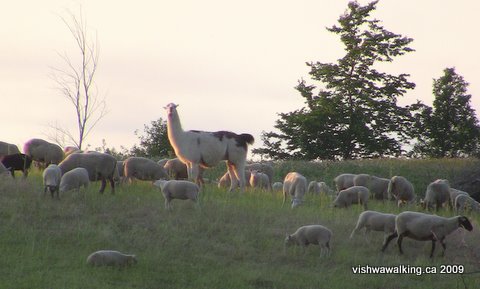 After that, it's one pastoral scene after another: round bales in the field, cows chewing their cud (very loudly, by the way, no table manners at all, but very friendly), sheep bleating loudly while their protective dog shepherd barks ferociously, a llama sternly but silently watching amidst the same flock, birds, farmers out haying, rolling hills of grai —ah, I hear you claim, he's getting far too romantic and sentimental. I swear, this is all packed into one short walk between Hoards station and the 4th line.
This llama was silent but very attentive as I walked by. Long after I'd passed,
she was still staring at me. On the June day I walked this section near Pethericks
Road, there were lots of lambs frolicking about (what else do lambs do, anyway?).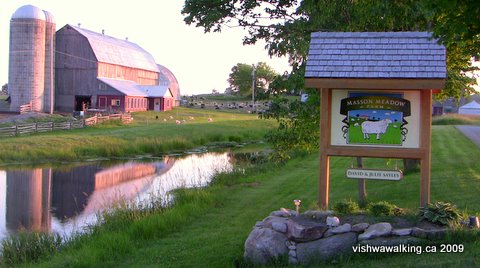 The only thing to watch out for is poison ivy, which lines the edges of the rail bed along this and previous sections. If you stick to the trail you'll have no trouble.
There's a nice-looking barn on the left side as you come up to the 4th line; the road that splits off the trail at the 4th line leads to it. At one point the trail rides slightly high and you get to look down through the trees on any cows that might be in the adjacent fields.
Masson Meadow Farm on Pethericks Road, which this section of the trail passes
over 2.5 kilometres north-west of Hoards Station.
I had a good chat with the Jersey cows at the junction of the trail and the 4th line; they gathered at the fence as I came up to the road. A very sociable lot.
The trail now parallels the 4th line westward, with several dairy farms along the way. These truly are the rolling hills of Northumberland county. In mid-July after a wet spell, the fields are lush and green, spreading up and out from the trail. If you walk in early evening, you can catch a farmer or two dealing with her/his cattle.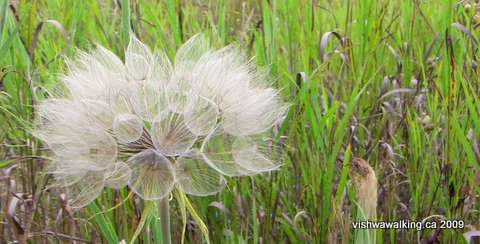 After the 4th Line, the trail crosses Devil's Valley Road (where there's a house on your immediate left), then gently winds another 1.4 kilometres to the 5th line. There are blackberry and raspberry bushes along the way and an apple tree just on the left after Devil's Valley Road. If you happen to walk in berry season, take care to avoid the poison ivy when you're wading into any bushes. There's a lot of it lining the trail in places.
This beautiful seed flower (I don't know what it's called) was just
at the edge of
the trail south of Loucks Road—a ghostly, ephemeral grouping of seeds waiting for
a good breeze to disperse them.
At the 5th Line east, the trail curves to the left and parallels the road for a while. As it curves northwestward away from the road, it passes two houses on the left. The first is a strange trailer affair with a falling-apart particle-board roof over it.
Immediately afterwards you will pass over a little stream, which was dried up when I walked this section in August. It was also difficult to see under the thick undergrowth.
South of Loucks Road, there's an apple tree on the right-hand side with tasty but very tart little apples on it in mid-August.
North of Loucks Road, the rail bed cuts into the hillside a bit and there are banks on either side. Unfortunately unscrupulous people have taken the opportunity to dump garbage here. Old tires, beer cases, clothes and the like have been left here. Some of this garbage has been here for quite a while. Presumably the banks have allowed the dumping to be done undetected.
After Loucks Road, it's a short jaunt to Burnbrae Road (6th Line east). There's a map here outlining the area's trails and a box to one side with "Maps" written on it. However, poison ivy surrounded the sign and the box, so I did not venture to check it out.
At Burnbrae Road, the trail ends, although the rail bed continues.There are cement pylons on the north side of the road across the rail bed continuation. I will walk that soon and report on whether it is possible to walk it.
T
he rail bed part part of the trail ends here at Burnbrae Road (6th Line East) just
west of Campbellford. Notice the cement pylons on the north side. The rail bed continues,
but it is quite overgrown. The sign contains a map of trails of the area (mostly for snowmobiles
and ATVs). The sign and the blue map box attached to it are surrounded by poison ivy, so it was
not possible to check the map box out.
The official Trans Canada Trail heads off westward along Burnbrae Road into the south-east side of Campbellford.
Rating: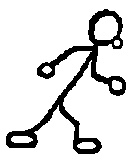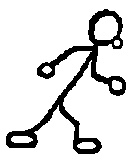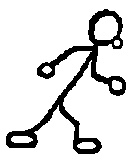 Easy.
Walked: June 25, July 20, 21, August 9, 2009

On to the next section:
Campbellford
Campbellford to Hastings
Back to the previous section: Tweed to Bonarlaw
Back to the Ontario Trans Canada Trail main page