Home
About Us
Vishwawalking explained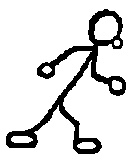 Ratings Explained
Vishwawalks
Day walks
Funky Places
Future walks
Food
Gear
Get Lost
Good reads
Links
Right to Ramble
Site map
Contact us
Vishwawalking
Trans Canada Trail
East to West.
Tweed to Bonarlaw


1)

Tweed

(Hwy #37) to Hwy #62
Total: 14.5 km

Running Total (Tweed): 14.5 km
Highway #37 in Tweed, just south of the Heritage Centre on
the east side of the road through to the Rapids Road, on to Drag
Lake (7.8 km from Tweed) to Douglas Road to Highway #62.



The moon, caught in the trees on a frosty night
on the Trans-Canada Trail
Click here or on any photo for more photos of this section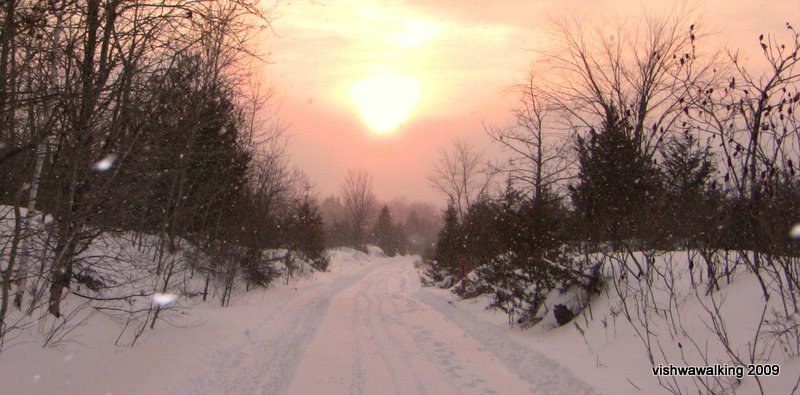 This is a varied part of the trail, running through hardwood and softwood bush and marsh with fields providing an almost constant background on the south side and much of the north side.

Little creeks run beside or under the trail at points. The marsh area is particularly interesting, as the old rail bed is considerably raised up and provides a good vantage point.

A welcome bend in the trail. Keep your eye on the great scenery so the straight
stretches don't get you down


There is an almost imperceptible incline from east to west and this walk is flat and easy. In the winter the
snowmobiles pack the snow. A trail groomer used to pass over sections after snowfalls around 2010; I think that service, probably performed by a dedicated volunteer, no longer exists. Winter or summer, this is a very pleasant section of trail.

This bench faces the east end of Drag Lake. There are a few more along the way, as well as a "memorial picnic area." In the summer, Drag Lake is a good place to stop for a picnic.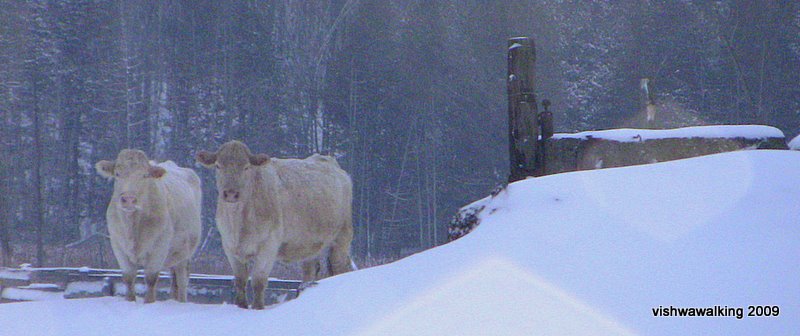 There are a few graceful bends in the railbed, but overall it's pretty straight. The trail crosses Rapids Road just a hair short of 5 kilometres and continues another 2.5 kilometres to Drag Lake, with lots of open marsh to give fair warning of the little lake to come. At Drag lake, there is a cabin (with a street light outside, no less!), some old ice huts on the shore, a couple of dilapidated trailers and other assorted shacks.

Cattle brave the snow and the cold, just off the trail.

Well-placed benches faces the lake where you can take a break and contemplate the lake, and there' a "memorial picnic area" on the east end of the lake.

There are some intriguing side trails off into the bush that deserve some investigation. On the map, there are also interesting names of settlements in times gone by: Buller, Buller Siding and Lodgeroom Corners. They are largely dots on the map now, but they must have some history worth digging out.

After Drag Lake, there are some really good views of the surrounding marshland. The old rail bed rides above it. Unfortunately, the trail has some extremely straight stretches here as well. After the marshland, the trail cuts through rock and you lose a bit of what is going on on either side for a bit.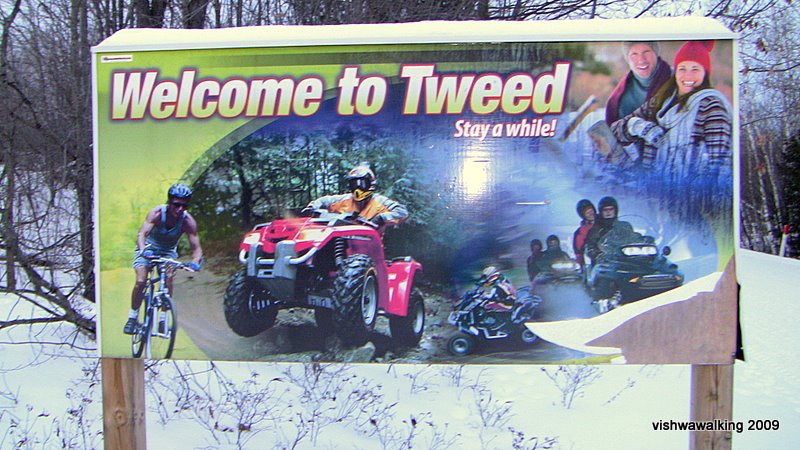 Snowmobiles and ATVs are allowed in this section and this greatly reduces the walk's attraction. As I walked away from Tweed, there was a frequent buzzing of snowmobiles. When I last walked the trail, a pack of six or seven snowmobiles roared by at high speed, leaving a foul stench of pollutants in their wake, which hung in the air for a good 20 minutes. If you have pets (the signs say you should have them on a leash) or children, it could be dangerous. Just a week before I walked the section in January, 2009, a jogger had been hit by a snowmobile and taken to hospital.
The sign says it all. "Multi-use" trails that involve vehicles are not friendly

for walkers, bikers or horse riders. Notice the biker who is just about to get
wiped out!

Rating: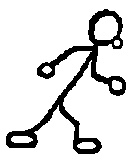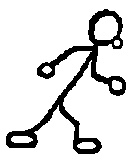 Easy
Walked: January 17, 18, 30, 2009
2) Highway #62 to Spring Brook Road
Total: 10 kilometres Running total (Tweed): 24.5 kilometres
After a slight curve just after Highway #62, the trail continues straight for 2 kilometres. There are some interesting marshes on both sides of the trail, and a large pond appears on the north side at just under a kilometre. This is part of a number of creeks and marshes that eventually empty into Rawdon Creek, which empties into the Trent River, which runs through Trenton into Lake Ontario. If you stand on the little overpass watching the water run southward from the pond, imagine it making its way to the lake—another thread that connects the land and water. Conversely, when walking on the lakefront, I'll stop somewhere as a big river flows by and remember little ponds like these.
Just over two kilometres from the highway, you'll notice a quaint gate on the north side, with a metal railroad crossing sign on the right side. The gate is locked and the land is private. Beyond the gate, a pleasant loop trail of just over 600 metres leads near a couple of houses; if you head immediately right (east) you will curve around north until you see the houses. You can avoid the houses by cutting through some brush to within a couple of dozen feet from a field, where you loop back south again across a tiny bridge and back to the gate. It's private land. Be discrete and steer clear of the houses. Your call.
Just before Wood Road, the trail curves slightly (yay!) and there's a pond to the south, with a berm running along its north side holding the water in. One of my topo maps notes a "liquids depot/dump" south of this pond around the juncture of Twiddy and Ray roads. I'm not sure what that is, but it doesn't sound good. I hope the pond is not connected to it. There's an area of water fenced in just off the tracks and a duck blind farther along the shore.
Immediately after you cross Wood Road, you will cross Twiddy Road. Here, a barrel holds one of the mini trail stop signs. At the top of the barrel is all kinds of garbage. Just after Twiddy Road you will reach the 120 kilometre point for the entire trail from Sharbot Lake
The next seven kilometres to Spring Brook Road is very interesting, with all kinds of terrain on either side. Unfortunately, after a nice little curve just after Twiddy Road, there's almost six kilometres of straight rail bed. Luckily, there was a mist floating about on the day I walked it. Otherwise the trail disappearing to a distant point would be depressing.
After a mix of wood and field and a well-kept barn off to the south, the trail rides high above marsh on the right and a wet field on the left, with a man-made creek running through the middle at the 121-kilometre point.
The trail then returns to a mix of hardwood and softwood as the bed levels with the rest of the land, with lots of wets spots in the forest at this time of year (March) at least, before returning to the forest-field combination. A couple of little two-track roads come in at points.
At roughly the 123-kilometre point, the trail meets with my Eastward Vishwawalking trek, which I did in 2005. off to the left is an old windmill I recognized from the last time I was here.
The trail bed of mud and sand is easy to walk but a tad mushy in March. Despite the wet, the trail in this section was pretty dry. The trail crosses Squire Road and takes a little curve to the north before it reaches Spring Brook Road at about two kilometres east of Spring Brook.
Rating: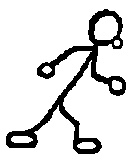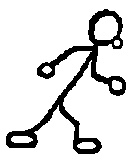 Easy
Walked: March 10, 29, 2009

3) Spring Brook Road to Bonarlaw (Hastings Heritage Trail)
Total: 4.3 kilometres Running total (Tweed): 28.8 kilometres
This next section I walked as part of an eastward Vishwawalk, as noted above. I walked it in 2005.
April 6, 2005 was a beautiful day — warm enough for shirtsleeves, but there was still some snow in the woods and in some of the marshes. Before setting off, I read a section of Deleuze and Guattari's Anti-Oedipus to chew on while I walked: " A schizophrenic out for a walk is a better model than a neurotic lying on the analyst's couch" (p. 2).
Further on, they refer to a character of Buchner's, Lenz, who feels cloistered by his pastor who keeps him physically confined while forcing him to situate himself "socially, in relationship to the God of established religion, in relationship to his father, to his mother. While taking a stroll outdoors, on the other hand, he is in the mountains, amid falling snowflakes, with other gods or without any gods at all, without a family, without a father or a mother, with nature."
But enough of the literary musings; the day was a fine one to affirm one's animal nature and to make some animal connections.
The rail bed is very straight, but there's a beautiful mix of countryside here: fields, woods and marsh. I saw a whole array of animals coming out to enjoy the weather: ducks, geese, blackbirds, red-wing blackbirds, a partridge strutting right across the trail, a turkey vulture sitting on a barn gracefully gliding off to check me out, and a couple of smaller birds I can't identify. A horse farm on the east side kicked things off at Spring Brook Road, followed shortly by a bunch of cattle lapping up the sun on the west side. On the east side, an interesting canal system was draining the field.
There were at least two old wooden boxes along this stretch that once had power connected to them, but now only the posts and disintegrating wooden cases remain.
Nearing Williams Rd., I came upon two muskrats playing in the marsh. The rail bed allows you to pry on marsh animals and keep your feet dry. They looked like a young pair, roughhousing in the water quite vigorously. At one point they were on their hind legs wrestling; at another, one came flying in from the right with a big splash landing on or close to her/his partner. Quite a show.
Williams Road comes in from County Road #14 on the left and runs to a dead end where Lindalane Farms, featuring Angus cattle, can be found.

The rail bed then
crosses Bateman Rd. before meeting Stirling Marmora Rd. (old Hwy #14) (3.5 km.), just above St. Marks Rd. and just below Bonarlaw.

Pause at #14 to take a look at St, Mark's Anglican church. It was built in 1933. An earlier St. Marks was built in the 19th century, perhaps on the same site, or perhaps a short distance away. I could find no definitive online history of the church. At
Hastings County Atlas, a note beside a photograph of the church reads: "Built in the Revival Gothic style of the latter half of the 19th century, the building features random-coursed ashlar walls, lancet arches over window and door openings and a tower with a crenellated parapet.
" (My apologies, the link from which I took this quote is no longer available and I can't find an update.) A photograph, in the Toronto Public Library's digital collection, purportedly from around 1910 shows a church virtually identical to the present one—so much so, I'd question either the cornerstone (1933) or the library's dating of the old picture.

A further .8 km. from #14 gets you to the Hastings Heritage Trail, which comes up on the left from the south at an angle and heads off to the right. Our westward bound journey on the Trans Canada makes a brief switch here to the southbound Hastings Heritage Trail so we can connect with the westbound Trans Canada into Campbellford.

Click on the Bonarlaw to Campbellford section to continue to the next section of the Trans Canada Trail.


Rating: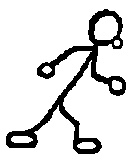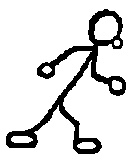 Easy
Walked: April 6, 2005
The pros:
It's easy.
There's lots to see.
Beautiful and varied countryside.
Easy planning (lots of crossroads).
The cons:
Dangerous ATVs and snowmobiles.
Foul, unhealthy smell when vehicles pass.
Very straight.
The gravelly walking surface is monotonous.
Click here or on any photo for more photos of this section

Page created February 3, 2009
Updated: September 6, 2021


Home | Contact Us | Site Map