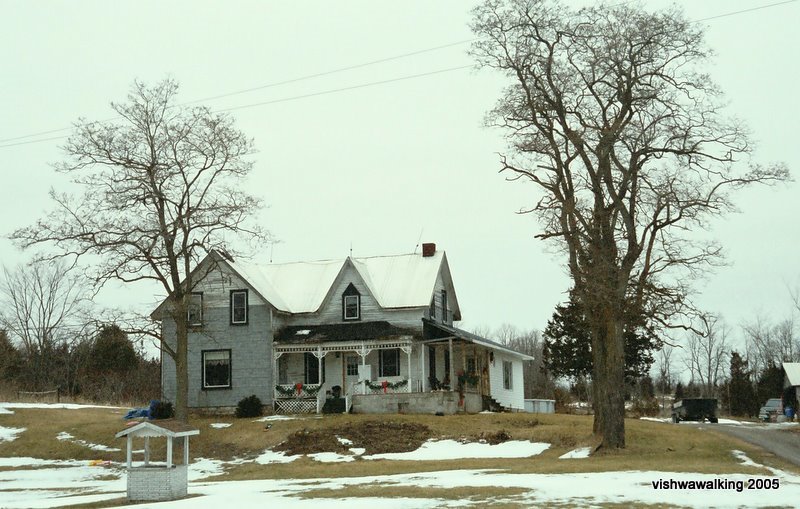 This farmhouse (left), on the north side of Moneymore Road is one of the grander and older buildings. Recently, a number of newer houses have sprung up. February 9, 2005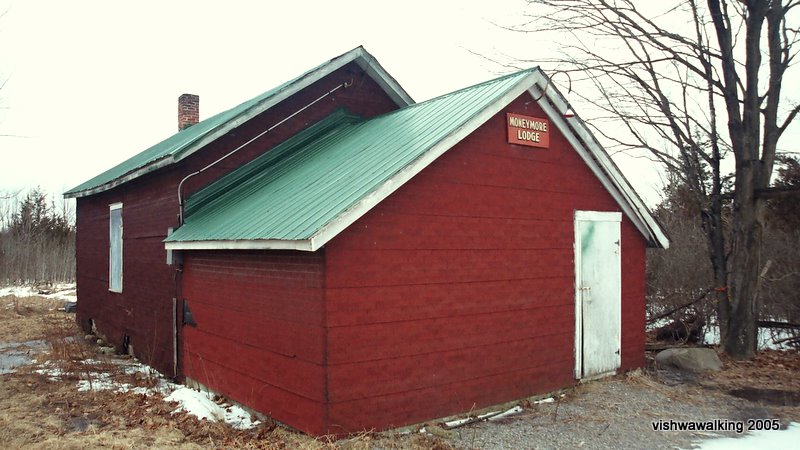 The old Moneymore Orange Lodge is pretty run down at this point. February 9, 2005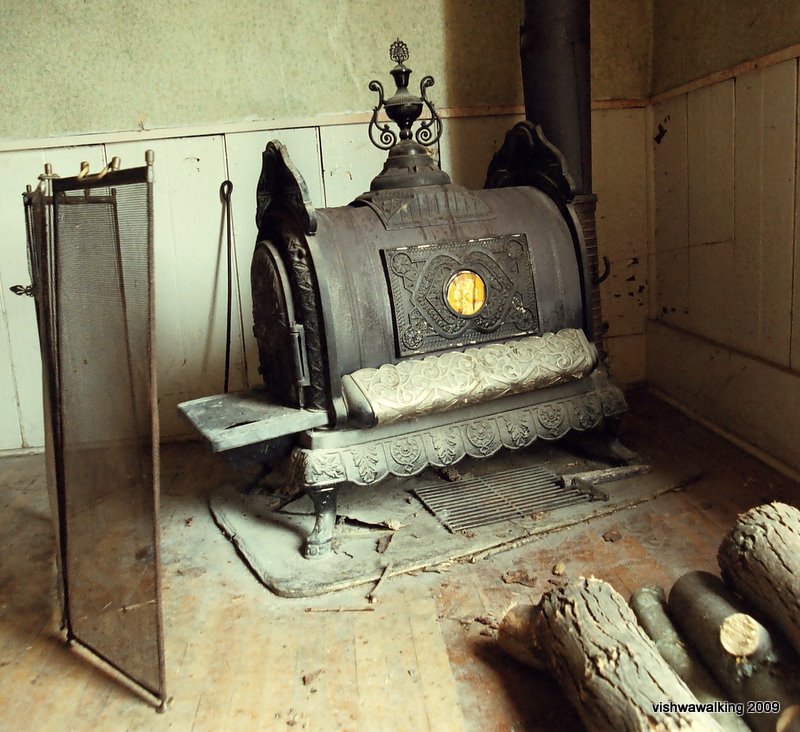 This is the Burrow, Stewart and Milne (#30) wood stove in the old Moneymore Orange Lodge.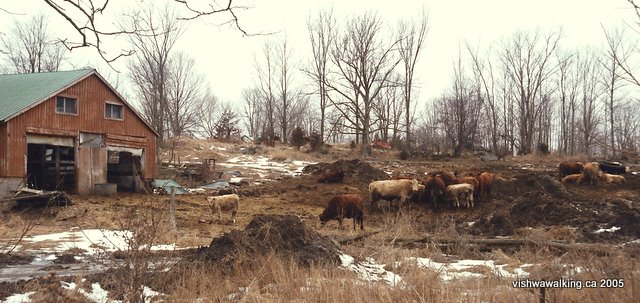 Although the Moneymore Road is too straight for my tastes, it does have many distractions along the way. Here, cattle mull around their feed on the north side of the road. February 9, 2005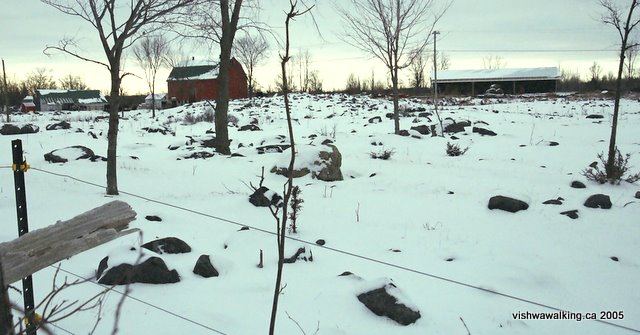 It must have been tough for early settlers to work this rocky ground. Here a field can be used for cattle grazing but little more.
February 9, 2005

A yellow gate on the north side of just after the first jog on Cheese Factory Lane. It's a beautiful section of the trail with a mixture of forest and field.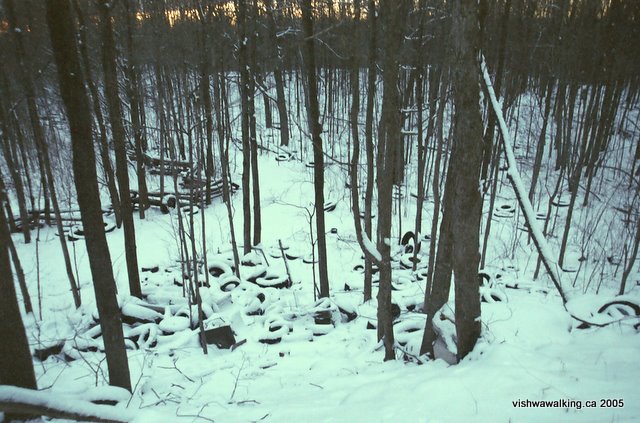 Not far after the gate, the road jogs south again where there's an unsightly tire dump.


I've found too many of these unofficial dumps in my travels. Irresponsible landowners, passersby and so on feel it's their right to dump garbage in out-of-the-way places I've run across cars, furniture, appliances and all manner of general rubbish in otherwise pristine places.

These tires had an almost sinister aspect when I walked this section in the early evening. After the beauty of the forest and the stillness of the winter day, the tires gave off an evil aura, as if some boorish goon was not far off in the bush waiting to dump more filth into the trees.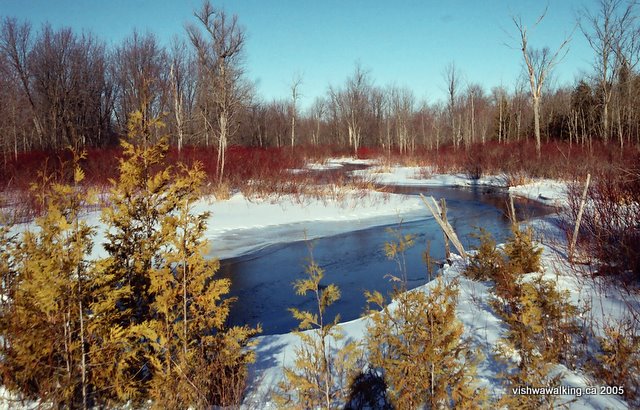 When Cheese Factory Road (a road allowance) comes out at Naphan, Phillips Road continues southward. Parks Creek splits into two branches east of Phillips road. Left, the first branch winds eastward from Phillips Road.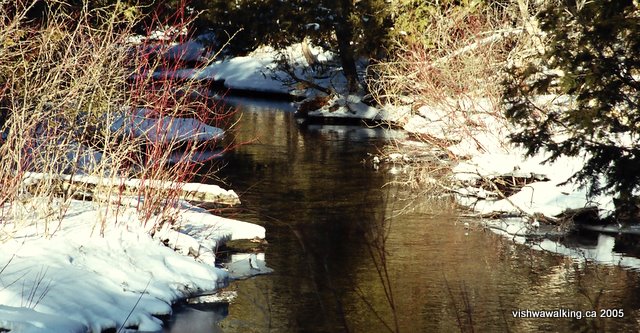 Here, the second branch of Parks Creek also winds eastward at a second bridge on Phillips Road.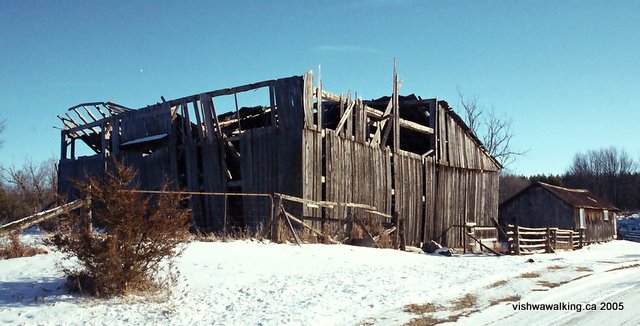 This old barn just south of Parks Creek on Phillips Road is gracefully returning to the earth. My father, an
avid photographer of old barns, would have loved this one. February 11, 2005
Maple Sugar Road is an unopened road allowance that runs from Phillips Road to Daley Road. Just a short run up Daley Road leads to the back entrance of Menzel Park. February 11, 2005
Back to the top of the page
On to photos of Menzel Park
Back to description of this section
On to a description of the next section