This nature reserve is about 17 kilometres north of Napanee. To get there, you can travel up Highway #41 out of Napanee. From Highway #401, head 13.5 kilometres north to Roblin. Turn east on Roblin Road and drive 7.6 kilometres to the gate of the park. If you're coming from the east or north-east, head up Shannonville Road (County Road #7) to Shannon Road (about 11.5 kilometres from #401). Head east 14.7 km on Shannon Road to Deseronto Road, where you'll turn left (north) and follow the road another 1.8 km as it turns left into Roblin Road, with the park gate on your left. It's a little more convoluted (and Shannon Road is a nice drive), but it's better than heading to Napanee and back tracking.
There are no facilities here—and there's no fee either.
Menzel park opened in 1993 and has grown from 850 acres to around 1200 acres (627 hectares). In 1974, Oivi Menzel, originally from Estonia, died at the age of 33. Her husband, Dieter wanted to do something to preserve her memory. He spent some time looking for the right place then settled on the Mud Lake area.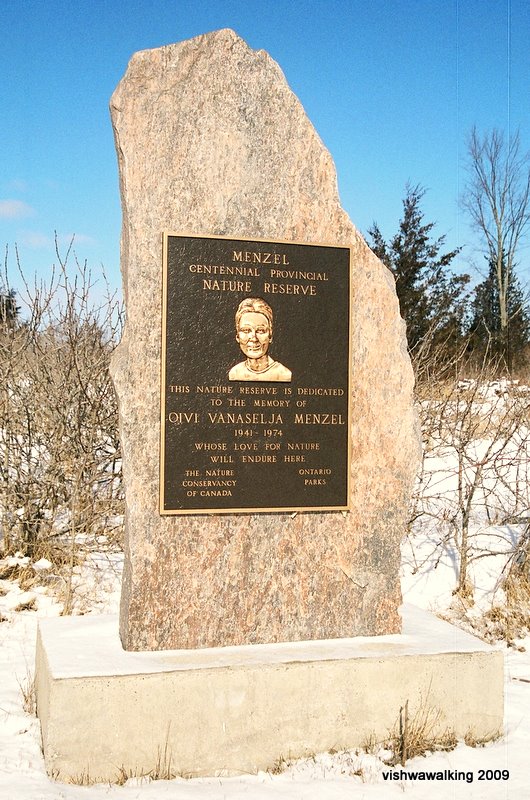 Today, the area continues to be promoted by Dieter along with various provincial and federal government organizations.
It's in the headwaters of the Otter Creek and the Salmon River watershed. The Provincial parks page says it features "one of the largest examples of open and treed fen in southeastern Ontario." That phrase is parrotted in this
page, which also has a map.
"
Fens are somewhat rare in southern Ontario. There is one not far from the Menzel site, near Tweed called the
Stoco Fen
. It's provincially significant, but other than a wander along adjacent roads it doesn't have any trails to follow.
Monument to Oivi Menzel at the gate
to the park. Photo: February 15, 2005
A excellent discussion of wetlands is
The Ontario Wetland Evaluation System
(2013). There's tons of good stuff here, but you can jump to page 50 to get a quick definition of a fen.
Mud Lake, a roundish shallow lake in the middle of this reserve, is surrounded by 19 different natural habitats and you can find the nationally rare Prairie Fringed Orchid here, as well as the Olive Hairstreak Butterfly and the Cooper's Hawk.
One of its major features—the fens—can make for wet walking. However, on July 4, 2008, a new trail
1.8 kilometres long was opened, complete with boardwalk. Dieter and his family were there.. (The park literature says the trail is 2.4 km long, but my maps and my GPS say 1.8 km; I'd say the latter are more accurate.)
This
video
, narrated by Dieter Menzel, give a fantastic idea of what a fen is and what you can expect if you visit Menzel reserve.
Menzel Reserve is part of my eastward vishwawalking. See the bottom of the page
here
for more details of my February 13, 2005 walk through the fens and across the lake.