My chronicles of the trail are general. There are many guides and written details of specific parts of the trail. I have tried to give an impression of what to expect along the trail along with some details as to how to create a schedule, arrange for shuttles, etc.
Below are my impressions of the approach trail Trail in Amicalola Falls State Park leading to the southern terminus of Appalachian Trail. This trail, and the initial part of the AT is within the Chattahoochee National forest, which has 750,000 acres of federal land within a boundary of about 1.65 million acres of land. The state park is 1,020 acres and one of Georgia's most popular.
The falls at 729 feet (222 metres) is the highest east of the Mississippi. Compare that with Niagara Falls, with a drop of only 173 feet (53 metres). More comparisons: Alfred Creek Falls in British Columbia is 2,300 feet (700 metres) high. Salto Angel in Venezuela at 2647 feet (807 metres) is the highest in the world. Yosemite Falls in Yosemite National Park comes close at 2,425 feet (739 metres).
Of course, to make a falls impressive, volume of water needs to be considered too. However you look at it, spend time at Amicalola Falls. It's the first of many wonders on the AT trail.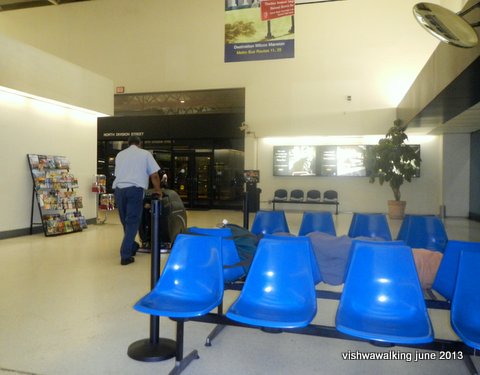 Wherever you live in the world, unless it is directly opposite the trail, you'll have to figure out how to get to the trailhead. Getting on and off the trail will probably be your biggest expense.
If you have enough money, take a train or plane ride to the closest city and go from there.
If you can tolerate (and afford) leaving your car for a few weeks at an arranged spot, go that route.
The Buffalo bus station, 4 a.m. Just me, a fellow sleeper (notice him snoozing
on the seats) and the cleaner. The cleaning machine was extremely loud, the
lights bright and the fixed plastic seats made for a lousy mattress. Eight hours
between buses. But hey, the adventure begins. May 23, 2013
You can leave your car in the car park at Amicalola Falls State Park for free. It is very near the start of the approach trail, close to park offices and apparently a safe place to leave cars. Of course, you'll have to get back somehow to pick it up at the end of your trip.
If you're like me and your resources are limited, think bus. I live in central Ontario, Canada. My cheapest travel was by Megabus.
Megabus can be very cheap. At points, a trip from Buffalo to Atlanta could be as low as $6. I travelled from Kingston to Toronto at 7:35 in the evening for $7.35. (bingo!). At midnight I travelled on to Buffalo for $35.00. At Buffalo I "slept" in the bus station and for $29.00 boarded the 10:30 a.m. bus bound for Cincinnatti (with a 1.25 hour wait there) and then on Atlanta by 6 a.m.. Total: $71.35. It's a deal. 2021 update: I couldn't find Megabus buses from Buffalo to Atlanta in March 2021, perhaps because of covid-19. The cheapest one-way bus ticket I could find was about $111 U.S.
I left my home at 5:30 on a Wednesday and arrived in Atlanta 36.5 hours later. Still not at the trail.
This leg of the trip is part of the adventure, so whatever travel you choose, get into it. My notes at the bus station: "A guy with an electronic cleaner/polisher goes 'round and 'round me with his buzzing high-pitched machine. A guy sleeps in front of me on a matching set of four plastic blue chairs." Earlier on there were some Amish/Mennonite-type folk on the opposite side of the station, the men in black with wide-brimmed straw hats, the women in long drab dresses.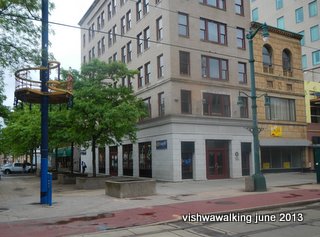 In the early morning I watched a very polite 30ish Canadian white guy take pictures of some well-dressed older black guys. Said he liked taking pictures of locals, etc. The Black guys weren't fooled: they knew they attract tourist eyes (including mine). One guy asked another why the guy wanted a picture. "Black people," replied another without further comment. Nailed it.
For breakfast, everyone kept recommending Tim Horton's.
The ecafe, 487 Main Street, Buffalo. A pretty
mundane breakfast, but it was hot. May 23, 2013

I resisted that and settled for a nonedescript place that opened early. Bad tea. It's sometimes hard to get good hot tea in this country. Cold sweet tea (or sweetea, with the accent on "sweet")—that's for later and another story—is a great southern treat.
I boarded the Buffalo bus at 10:30 a.m. It's definitely a different crowd from airport tourists and business people. I seemed to be the oldest guy on the bus, at least at the start. Lots of black people, Indians (from India), east Asians.
I chatted with the bus driver and told her my mission. As I left the bus in Cincinnatti, she gave me some good advice: "You stay safe now. Don't get snake bit."
I travelled most (but not all) of the Buffalo to Atlanta section using two seats, which made for some rough sleeping.
To backtrack a bit: to get to the trail you'll need a shuttle unless you're really hardcore and choose to hitchhike. Before you leave you can find lists of people on the Internet willing to shuttle you (there are more in the south than the north for some reason). The Appalachian Trail Conservancy has a
good transportation advice,
including links to information on shuttles. David Miller's guide has lists of names too. If you don't have a good
guide, get David Miller's The A.T. Guide or the Appalachan Trail Thru-Hiker's companion.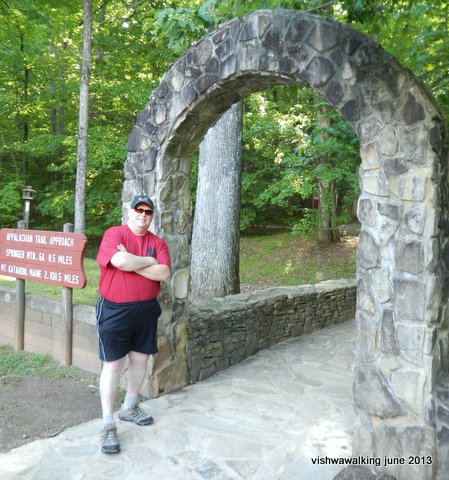 For my shuttle, I opted for Survivor Dave. He's efficient and has a military style in his instructions, which is a good thing for me. He makes sure you know exactly what you're doing, and I liked that. Later on, I travelled with a thru-hiker who wasn't so lucky; apparently her late plane caused some strife between her and Survivor Dave. My experience was good.
I took a MARTA (Metropolitan Atlanta Rapid Transit Authority — the subway/urban train system) to North Springs station (check out the
MARTA map here
) where I had agreed to meet Survivor Dave. We then huslted off to an I-Hop for breakfast and finally to the park just after 10. a.m.
I weighed my pack and was shocked to find it came in at 45 pounds (20.5 kilograms) fully loaded with water and food, but not counting four or five more pounds in my fanny pack.
Survivor Dave got me to the trailhead efficiently. It
cost me $92US. May 24, 2013
Way too heavy. It took a few days to get it down to the low 30s.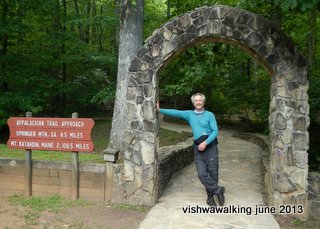 Mostly it was food: I really wanted to use my own dehydrated foods, my fruit leather, decent rice, my homemade jerky, etc. Next time, I'll tolerate less exciting packaged fast food, in exchange for a lighter pack. But I also had a GPS which I didn't need, a mattress (unnecessary because I use a hammock), too many batteries, a battery charger and other sundry items I have learned to leave at home.
It took me over an hour to organize, pose for a picture at the Amicalola Falls archway and start off up the trail.
Peter, posing without backpack and little sweat (yet),
about 11:30 a.m. May 24, 2013, just before setting off up
the hill to Springer Mountain, which is 8.8 miles away.
Photo: by hiker Feather, May 24, 2013
Starting Up the Trail
Just beside the archway (0.0 mile and elevation of 1,800 feet) that starts the approach trail is the Max Epperson Shelter, the first of many strung out along the trail. As a Canadian, I have to say there is no equivalent to the AT in Canada. Here is a 2,185.7-mile-long trail, with excellent camping faclities — for free! I hiked with two of my family for three days and nights in a provincial Ontario park. The hiking was fantastic — and it cost a lot of money. A backcountry pass for Algonquin Park, for example, costs $11.87 per night (which includes parking for one car). "Developed camping" (what I call "suburban camping—camping beside your car in a concentrated collection of sites) in a site without electricity is between $38 and 42 dollars per night. Suburban camping in a serviced campsite costs about $10 more. The cost for camping in an Appalachian shelter? Most often $0.00. Wow.
Maintenance of the trail by volunteers (of which more later) is extensive. Trails etched into the side of a mountain are ripe for erosion and volunteers have lots of tricks to slow that down and lots of yearly maintenance to keep the trails passable. It's a wonder. I wish we had the equivalent in Canada.
There are definitely many fine trails in Canada. For example, the Bruce Trail in Ontario involves many dedicated volunteers. Still, as with other foot trails, planning where you're going to stay at night takes a lot of effort. "Multiuse" trails (such as large Ontario sections of the Trans-Canada Trail) also involve dedicated volunteers, but they are pretty pathetic as far as hiking, camping and freedom from vehicles is concerned. Back to the trail.
My first challenge with my overweight pack was the 604-step stairway running up beside Amicalola Falls. It was a humiliating climb: I knew I was carrying too much weight and I was not as fit as I would have liked to have been. The climb involved many rest stops, but I made it.
I talked with a couple at the top of the stairs about my objective (at that point, 250 miles down the trail) and they were very supportive and filled with wonder that I should undertake such a project. It gave me some mental energy as I talked with them as if I knew what I was doing.
Amicalola Falls is stunning. I was there on Memorial day weekend, so the place was relatively crowded. In fact, there were plenty of people doing two or three day hikes on the trail over the long weekend.
Still smiling, with Amicalola Falls in the
background.Photo by unknown walker on
the stairs, May 24, 2013

One of my first lessons was to find out how long a mile is. I'm used to calculating in kilometres. A mile seems to go on forever.
Despite the climb, the fist stretch of the walk is civilized: paved walks, a "Reflection Pond" at the base of the falls,
a fine lodge
at the top of the falls (in the high season, about $130 for a double room, $150 for a cabin), a restaurant, the
Len Foote Hike Inn
half a mile off the trail ($132 for one room, one person ) — and a 604-step stairway.
While you're at the top of the falls, try to imagine a lake there. A lake was created at this spot in the early '40s, but was drained in the late '70s.
At the 4.8-mile point, I reached the top of Frosty Mountain. It's a forgiving climb, considering what's to come. Once the trail leaves the civilized section of the park (at mile 1.5 USFS Road 46), hikers are entirely under the forest canopy. There are no views of your ascent from 1,800 feet to 3,385.
After the slight downhill of Frosty Mountain, you'll ascend again to Woody Knob before dropping to Nimblewill Gap.
At the 7.5 point is Black Gap Shelter. It might be a point to shoot for if you want to save the big arrival at the Springer Mountain for when you are not totally exhausted, but I opted to push on.
The official guide describes the forests I walked in here as "mixed deciduous." Most of the trees are hardwood — oak, hickory maple and poplar — and most of the underbrush were of plants I couldn't identify, especially the broadleaf ones. However, there is plenty of one plant I immediately identified — poison ivy! If you don't recognize it, check out
my poison plant page
and the links there that will familiarize you with this plant. Even if you think you are not affected by it, give it a lot of respect.
Just before 5:30 p.m., I reached Springer Mountain (approach mile 8.8, AT mile 0.0, 3,782 elevation) with only a drop of water left. Here I met an energetic family that had hiked up a mile from the Big Stamp Gap parking lot. They gave me some water and took my picture, tired but elated atop Springer.
After musing over the view, I decided against staying at the Springer Mountain Shelter and headed on a further 2.8 miles to Stover Creek Shelter. I met the family I had met on the mountain earlier and we trekked together to the shelter, which we shared with several other campers, including three young people (around 18 to 20 years old) who were totally new to hiking and camping. They were hugely energetic.
For the first time, here at the start of the trail on Springer Mountain, I got a glimse
of the stunning mountains surrounding me. Note the plaque in the rock signifying the
start of the trail. Photo: a fellow hiker. 5:30 p.m. May 24, 2013