Vishwawalking

The Appalachian Trail
Katahdin (almost but not quite)


The goal:
Mount Katahdin, Maine. Here I am on November 2008 at the base of the mountain. It was not safe to climb in late fall, with ice at the summit. It was a chilly morning when my son and I arrived at Baxter State Park, but it soon warmed up. Mount Katahdin is in the background shrouded in clouds.

As I've only completed 200 miles of the trail from Springer Mountain in Georgia (or, to be more precise, from the approach trail at Amicalola Falls State Park) northward to Clingman's Dome (completed between May 24 and June 13, 2013), I've a long way to go before I get back to Katahdin. In 2,185.9 (3,518 kilometres) minus 200 miles I'll eventually return. Better late than never...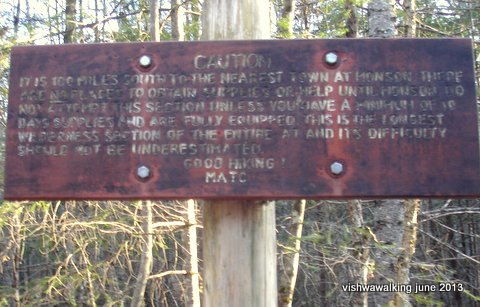 Since we couldn't climb the mountain, my son Matt and I took a couple of days to walk the roughly 10-mile stretch from Katahdin Stream Campground to Abol Bridge, plus a mile of the "100 Mile Wilderness" just to say we walked a bit of it, and to get a glimpse of the white cedar swamp.
To generalize: the walking was pretty flat and easy, with a couple of exceptions. There are a couple of streams to ford and in November they can run fast and cold.
This sign stands guard the northern end of the "100-mile wilderness" just south
of Arbol Bridge. It's a somber reminder of the care that should be taken in this
section. In fact, Matt (my son) and I only walked a mile into the section from Abol Bridge
at sundown. We turned around too late, and after our flashlight batteries died, we
got totally turned around in the moonless dark, walking back south on the trail for
quite a while before we realized we were going the wrong way! In Kephard's words,
we were "bumfuzzled."November 2, 2008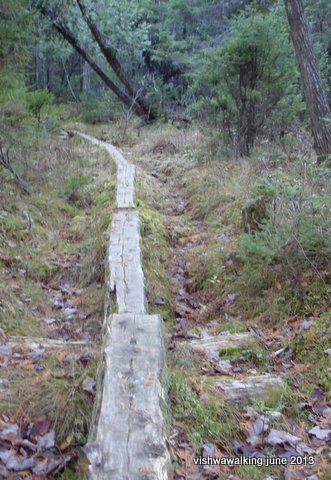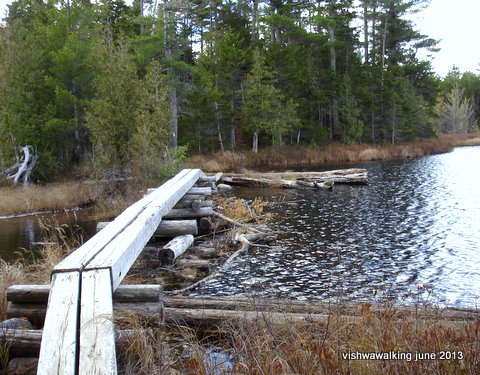 Left: a log path into the swamp pine section at the north end of the "100-mile wilderness."


The general walk Beside Tracy and Elbow ponds (with handy boards to cross some of the wetter spots—see the photo above) and the beautiful stroll along the West Branch Penobscot River made for a fine hike.
In the early sections by Tracy and Elbow ponds and by Big Niagara falls on Nesowadnehunk, the vista opens and there are fine views of mountains such as The Owl, Barren Mountain and Mount O-J-I. (The latter is so-named after a rock face that appeared to look like the letters O, J and H. In `1938, The Great New England Hurricane mostly obliterated the letters.)
We were able to find a reasonasbly cheap motel in Millenocket for our weekend jaunt. Restaurants were scarce, especially after hours. On our last day, we finished hiking late and tired and suffered a lousy MacDonald's meal as it was the only place open at 11 p.m.
Millinocket, out of season is a sleepy town. Never mind: a mattress, good shower and a beer and we were back in the game.
Right: a log bridge on the east side of Tracy Pond or Elbow Pond. These were fun to traverse and very solid




The lower fork of the Nesowadnehunk Stream (at the 2,175.5-mile point
going north, or the 10.4-mile point going south) was a little hairy. Here Matt
negotiates a section. Note the fast-moving water on the right. We spent a long
time buiding "bridges." November 2, 2008