Old Front-page news:
Utopians unite!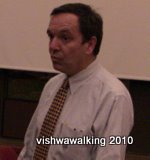 2012:
Gil Penalosa (left) is the director of
8-80 Cities
, a Toronto-based organization with an international outlook that promotes ways to develop liveable cities. He described amazing progress made in major cities such as New York and Copenhagen.
Perhaps with vision, we'll see the demise of the vehicle-centred city. Imagine a city with only public transit in its main thoroughfares.Penalosa and his organization show that, with imagination it's possible and far more economically feasible than some of the crazy vehicle-based projects most cities take on.
On the 8-80 site is a
report
on walking, cycling and obesity. Anyone who has walked in North America and Europe knows that Europeans walk/cyle much more than us lazy U.S. and Canadian citizens (I'm not so sure about the Mexicans) and that obesity rates are much lower in Europe generally. Is there perhaps a connection?
The
U.S-based Smart Growth America
has similar goals.

¡¡Abandoned site alert!!
March, 2010:
History destroyed! I have received emails from local folks in Lakefield, Ontario, noting the demise of the Lakefield cement factory silos. I walked through the silos in the old cement factory there in May 2009. The silos are now in the process of being torn down. See my exploration of the site
here
in my Get Lost folder.
Many people, it seems, saw them as an eyesore. However, their acoustic properties were fantastic. I compared them to the Montreal #5 grain elevator in my description..
See the
Lakefield Herald
(thanks to writer Anita Locke for this piece, for alerting me to the wrecking and for the other links). See also:
My Kawartha
(Note the cutline under the picture, referring to a "wreaking" ball. Exactly.). The
Peterborough Examiner
also has a story and a picture of the silos being felled by the freaking wreaking ball. Shed a tear...
Around 2009
: Check out
Inside/Outside with Kelly Marie
. If you live in the Belleville, Ontario area, you might find some good info here alsong with some interviews related to walking and nature.
2009: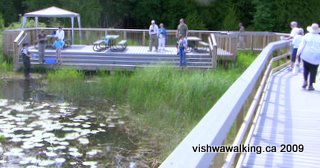 June 14, 2009: The boardwalk is back!
Presqu'ile Provincial Park near Brighton, Ontario has a reconstructed boardwalk that officially opened on June 14, 2009. It's a loop, just slightly over a kilometre long including non-boardwalk bits and gives the walker a glimpse of some fine marsh wildlife. In season, view pumpkinseed fish (as kids, we knew them as sunfish), mayflies, tiny red mites swimming about and of course frogs and the usual birds — and so on and so on. It's magic.
A "teaching station" near the end of the boardwalk,
June 14, 2009.
The "boards" are actually made largely from recycled plastic. The
Friends of Presqu'ile Provincial Park
are the hard-working folks behind this. They have one more observation tower and a spur to build.
The original boardwalk was dismantled in 2005 after it was decided it was too dilapidated for the public to use.
August, 2010
: This is a
booze ad
, granted. But it's a good one and the company's slogan is "Keep on walking." A little nip along the trail is always a treat on a long walk.
Sept 25, 2009: Nude Walker alert.
Uh-oh! The proponents of nude walking are at it again. They're having problems establishing a trail for nude walkers in the Herz Mountains in Germany, but some people are bucking the move. These walkers are doing more than hiking their trousers/dresses, they're chucking them off completely and travelling with only their backpacks and hiking boots. They look a little odd with in their partial clothing and gear, but hey, if it amuses them why not? See the
BBC article
.
September to October, the Frontenac Provincial Park Challenge
, The park is is north of Sydenham, Ontario, which is north of Kingston. As in past years, the Friends of Frontenac Park are sponsoring the Frontenac Challenge. It involves walking all 160 kilometres of the park's loop trails (a couple of the non-loop trails are not included) between September 1 and October 31. If you concentrate, you can do it in a week. I did it in eight days this year over an 11-day period. I camped for a couple of nights (three days) and made day runs for the rest. That means you still have lots of time to catch the fall colours in a world-class park. For information, including contacts and rules, see
this Friends of Frontenac page.
April 20, 2009
: Good news from the
Carolinian Canada Coalition
. "The group wants to plan a trail system from Point Pelee to Niagara-on-the-Lake [Ontario] and promote education and research on parks along Lake Erie, including Point Pelee's erosion and species at risk."
The not so good news (
Windsor Star, 2008
, scroll down a bit) is that human interference, and particularly harbours and breakwalls are causing the beaches and the point to disintegrate on sections of lake Erie's north shore. A
CBC news story
relates how Point Pelee's sand point was blown away in 2006. It reappeared as water levels in Lake Erie dropped, but there is an ongoing concern for the area. It would be much better if setbacks from waterfronts were extreme. Then these problems would not be as severe — and we'd all be able to enjoy a stroll along the lakeshore.
***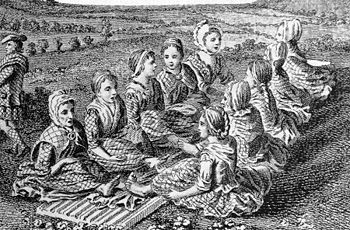 Okay, this doesn't have anything to do with actually "walking walking," but fulling or tucking in woolen clothmaking is also called "walking" or "waulking." To walk cloth is to cleanse it and to soften it. While researching
sean nós
, or "old songs" in the Irish tradition, I ran into references to "waulking songs." While women conditioned a woolen weave or tweed by beating it rhythmically, they would sing. Usually a soloist took the verses while the group took up the chorus often in meaningless ("non-lexible"") vocables (la-la, ti-de-dum, etc.).
"
Walking songs": women singing while walking or waulking cloth.
For more check out the
waulking song
entry in Wikipedia.
Past Cool Sites of the Month:
September, 2012:
Going to Toronto? Live in Toronto? Check out the
Discovery Page
on the City of Toronto's Website. It lists a number of cool walks.
Try the
The Walking Connection
.
It's slightly dated, but there are still some good links (mostly U.S.) here.

December 2010-January 2011
A cool page with some descriptions of different kinds of walking. OK, OK, you're not into the technical stuff. Still. it's fun to read... Cool Walking.


October, November, 2010:
Here's a no-nonsense site by a self-described
"mom, wife, walker, personal trainer and marathon walking coach
." It's got straight-ahead info on shoes, nutrition, how to get started (duh, put one foot in front of the other...) Nice site to check out.
: the walking site.

November, December, 2009; January, February 2010:
Geoff Nicholson wrote a book called The Lost Art of Walking: The Science, Philosophy, and Literature of Pedestrianism (Riverhead Books, a division of Penguin Books, 2008). It's a fun look at walking through history and a must-have for walkers. Have a look at his photos on Flickr.
August, 2009:
Walking in L.A
. I like Neil Hopper's usually minimalist descriptions of walks he has done, mostly in L.A., in the U.S.A., but he does take some road trips. His description of a trip to Utah: "Drove a lot, saw lots of trees, lots of desert, ate in lots of restaurants, stayed in lots of motels. As close as I ever get to having fun." His L.A. walks have pictures and Google maps but no talk.
ome old pics from the fr
Some old pics from past front pages: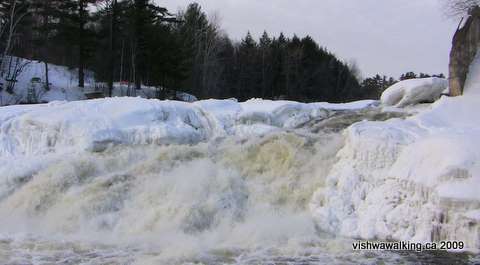 This photo was taken in March, 2009:
The Rivière du Nord, near St. Jerome is north of Montreal. It can put on a pretty good show..