Home
About Us
Vishwawalking explained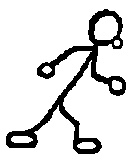 Ratings Explained

Vishwawalks

Day walks

Funky Places

Future walks
Richmond Bridge
Food

Gear

Good reads

Links

Right to Ramble

Site map

Contact us




Some quick links:



Literary connections: Charles Dickens
Richmond Bridge























































































































































































































4) Richmond, Petersham, Ham and thereabouts

After a brew or two at The White Swan, 26 Palace Lane, you can go just around the corner to Maids of Honour Row.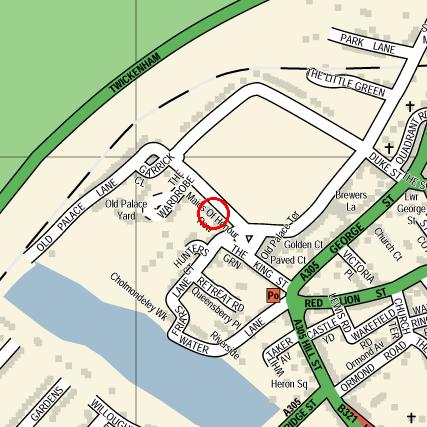 Harper writes,

"

Literary ladies, and blue stockings too, have thronged Richmond, and to this day there stands on the Green a row of charming old houses, fronted with gardens and decaying wrought-iron gates, called Maids of Honour Row, where were lodged such maids of rank whom interest or favour could admit to that honoured, though hard-worked and thankless guild. Madame D'Arblay, who as Fanny Burney, was a domestic martyr to the royal household, has shown us how empty was the title and painful the

Richmond Bridge

place of "Maid of Honour

"

(p.7).


Maids of Honour Row was built in 1724 for Caroline of Anspach, who was married to George II (1727 to 1760). back then, the maids received £200 per year plus room and board.


Deciphering Harper:
The Blue Stocking Society was created in the 1750s as an informal cultural and literary society for women, but which had frequent male visitors. Blue stockings were the more informal daytime stockings worn by men. The Fanny Burney, referred to by Harper, was a member.

Subsequent to that, "Blue stockings" became a derogative term for educated, literary ladies.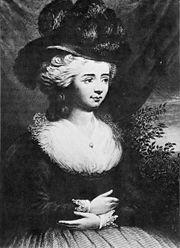 Fanny (Frances) Burney also known as Madame D'Arblay (1752-1840), was a novelist, diarist and playwright. Dr, Samuel Johnson and Jane Austen were both impressed by her writing. The phrase "pride and prejudice" is taken from Burney's novel

Cecilia.

Her novels were published anonymously because of the pressures women who wrote publicly suffered. However, praise from literary giants of the day and a mostly supportive father allowed her to write (with some breaks). She lampooned many of the customs of the upper class and her work is seen by many as a chronicle of the trials women of the time had to suffer.

In 1786, she accepted the post of "Second Keeper of the Robes" for Queen Charlotte, wife of King George III. Although she had a good relationship with the queen, her duties were (to use Harper's term) "painful" and left her little time to write. It did give her £200 a year and a place to stay. She left her maid of honour job in 1790 and went to live with her father, although she maintained relationships with the royal family.




Frances Burney

Number 4 Maids of Honour Row was once the home of Henrietta Howard, George II's mistress.

Interesting things to check out:



The

puppetbarge. Puppet Theatre. Winters in Little Venice, London, and cruises Henley-on Thames, Marlow, Clivedon and Richmond-on Thames.

Orange Tree Theatre, 1 Clarence St. Richmond, Surrey, TW9 2SA, Box Office: 020 8940 3633

Pen Pond and Spankers Hill have short walking trails adding up to 3.2 km (almost 2 miles) . They are in Richmond Park. The park was enclosed as a deer park by Charles I in 1637.
Petersham, Borough of Richmond, London. See here for a site created by the people of Petersham and some fine photos of what to expect.
Richmond Bridge
Richmond Bridge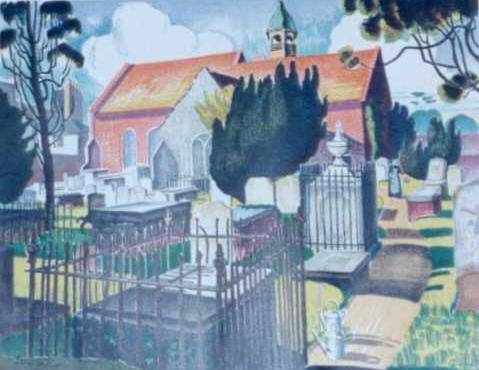 In St Peter's Church in Church Lane at Petersham is buried
Captain George Vancouver
, who sailed with Captain James Cook on several of his adventures, before leading his own explorations all along the North American west coast. Vancouver and Vancouver Island are named after him, as is Vancouver, Washington, U.S.A. he died ion 1798.

The present church was built in 1266. It has box pews, which were rented by local landowners. Their servants were relegated to the open pews in the south transept.

Beneath the Cole Monument is George Cole, along with his wife and child. the monument depicts the family, decked out in Elizabethan garb.


St. Peter's Church, Petersham, from a London Transport poster, 1937

Harper:

"The little church of Petersham is interesting despite (perhaps on account of) its bastard architecture and singular plan, but the feature that gives distinction is its cupola-covered bell turret, quaintly designed and louvre-boarded. The interior is small and cramped, and crowded with monuments. Among these, the most interesting, so it seemed to us, was that to the memory of Captain George Vancouver, whose name is
Richmond Bridge
perpetuate in the naming of Vancouver Island" (p.9-10).

Ham
, Borough of Richmond, London.


Ham House was built in 1610 and extended in 1640. According to the National Trust, it is "reputedly one of the most haunted houses in Britain." Use the National Trust site to get times the house is open and a host of other practical information.

It is necessary to have a pencil sketch of the history of some of the house's owner's to make sense of some of Harper's comments. The civil war years in England are notoriously complicated. England was continuing to make faltering steps to some kind of parliamentary rule and the allegiance of the nobility was all over the map. Below is a very brief outline of some of the players that may make sense of Harper and help you get more enjoyment from strolling around Ham House.

Ham House was built for Sir Thomas Vavasour, Knight Marshall for James I. The Earl of Vavasour owned it briefly before it passed to William Murray. Harper notes that Murray "had in his time fulfilled the painful post of 'whipping boy' —a species of human scapegoat—to his majesty, and by his stripes was his preferment earned" (p.11). Will became the 1st Earl of Dysart in 1643 while residing at Ham House.

The idea of a whipping boy was that, as no one could discipline a prince except the king, a whipping boy took on the job. The supposed close relationship between the prince and his whipping boy would, it was reasoned, modify the prince's behaviour accordingly.

Under Charles I, Will became a Groom of the King's Bedchamber, something James I started, which mostly seemed to serve as a system of rewards for those close to the king. (His sister was Anne Murray, not to be confused with the still-living Canadian pop singer.)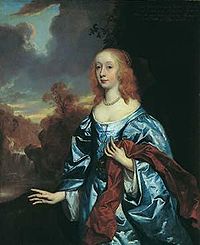 After Will's death, Ham House passed to his eldest daughter, Elizabeth, who married Sir Lionel Tollemarche, a wealthy landowner. Elizabeth, who eventually became the Countess of Dysart after her father's death, was well-educated and political. Oliver Cromwell (anti-Royalist) was a visitor to Ham House and Elizabeth's friend. However, in fact Elizabeth worked to further Royalist interests, was a member of the secretive Sealed Knot, which worked in the interests of Charles II, and had contact with a group of aristocrats known as the Cabal. The Cabal was made up of five men with very different outlooks. They worked secretly and had incredible power, conducting the nation's affairs both at home and abroad. Despite this, they were not a cohesive group, with different views of how government should be run. Religious differences and Charles II's Royal Declaration of Indulgence eventually led to the dissolution of the group.
.
Elizabeth Murray,


by

Sir Peter Lely

,

c.

1648




John Maitland
, 1st Duke and 2nd Earl of Lauderdale, 3rd Lord Thirlestane, was one of the Cabal members. He was (eventually) a fervent Royalist Even before Sir Lionel died, it is said that Elizabeth had relations with him. Sir Lionel got sick and eventually died. Mailtland/Lauderdale's wife also got sick, was eventually banned from Britain (by Maitland) and also died. He married Elizabeth shortly thereafter. For many years, he fought for the interests and was a favourite of Charles II. While well educated, he was arrogant and ruthless. The article noted above describes him thus: "Though a man of considerable learning and intellectual attainment, his character was exceptionally and grossly licentious, and his base and ignoble career was henceforward unrelieved by a single redeeming feature." In 1682, he ticked off James II and was stripped of his offices.
With that, the sketchiest of backgrounds, we move on to Harper.
"[[Ham, House] was." writes Harper, "a meeting place of the notorious Cabal—that quintette of unscrupulous Ministers of State whose doings were a shame to their country. Here they plotted together, and under this roof the liberties of the lieges were schemed away." Harper quotes Horace Walpole (1717-1797) approvingly in his description of some of the Royalists who gathered at Ham.

Horace Walpole was the youngest son of Robert Walpole. The latter was considered by some to be Britain's first prime minister. (As the office evolved slowly, it is hard to pinpoint a first prime minister.)

"It is so blocked up with walls, vast trees, and gates," Walpole writes of Ham House in a 1770 letter to George Montagu, "that you think yourself an hundred miles off, and an hundred years back. The old furniture is so magnificently ancient, dreary, and decayed, that at every step one's spirits sink, and all my passion for antiquity could not keep them up. Every minute I expected to see ghosts sweeping by; ghosts I would not give sixpence to see, Lauderdales, Tollemaches and Maitlands."

Harper, after quoting the appropriate snippet of the Horace's quote adds,



"For my part, I would give a great many sixpences not to see them, either by day or by night, whether or not they carried their heads in the place where heads should be, or under their arms, an exceedingly uncomfortable position, even for ghosts, one would think. I have not that horrid itching (which I suppose characterises the membership of the Psychical Research Society

for the society of wraiths and bogeys, and hold ghosts, apparitions, spooks and spunkies of every kind in a holy horror" (p. 13-14).

Walpole relates that the gates were permanently locked and you have to get in through the stable yard and "creep along a dark passage by the housekeeper's room." In 2008, the national trust "reinstated" the original gates. Both Harper and Walpole noted a certain decaying atmosphere at Ham House, and depending upon the interest of its owners, it did have a roller-coaster history in terms of care. The National Trust have stemmed that, but be warned. It is said the ghosts still wander.



.Address: Ham Street, Ham, Richmond-upon-Thames TW10 7RS
Telephone: 020 8940 1950
Gift Aid Admission
(Standard Admission prices in brackets): £9.90 (£9), child £5.50 (£5), family £25.30 (£23). Groups (£8.50), child (£5), Group visits outside normal hours (£14).
Garden only
: £3.30 (£3), child £2.20 (£2), family £8.80 (£8). Admission to gardens includes outhouses and introductory film.
(Gift Aid admission, by the way, includes a scheme by which paying a little more, the National Trust can claim taxes back. In their example, paying £1, it brings in £4 for the National Trust.)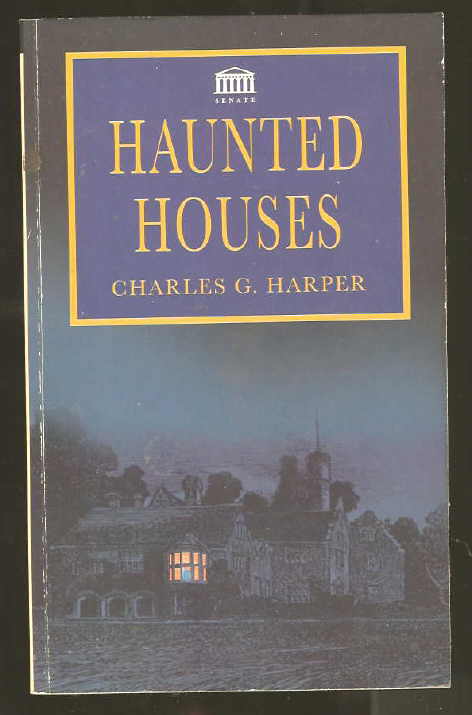 Regarding the discussion of the nobility, here's an interesting footnote to all of the above. This is from
A Time Traveller's Guide
, a fun exercise that attempts to get students to imagine what it was like back in the day: "In 1685, there are an estimated 5 million people in England. Of these, 7,000 are lords and bishops; 8,000 knights; 50,000 clergymen; 70,000 lawyers; 250,000 shopkeepers; 750,000 farmers; about 2,500,000 labourers, servants and poor – and 30,000 vagrants." That means about .14% (notice the

point

-one four!) are toffs lording it over the rest of the folks and 50% are poor. Except for the titles, some things never change.


In the above quotes, Harper professes to not be interested in the occult. But have a look at the eerie story of the Vampire of Croglin Grange. In 1924 Harper went to Croglin and did some investigating. He came to the conclusion the vampire story was rubbish.

In 1907, he wrote a book called

Haunted Houses

. Methinks Mr. Harper protests too much.
Wimbledon to Ham Google Map
5. New Forest

1. Back to Introduction
The project explained. Who is Harper? Distances.
2. Back to Preface
"Dreadful tourists" and "prigs." H. snipes at those who have gone before.
3. Back to Paddington to Richmond