Home
About Us
Vishwawalking explained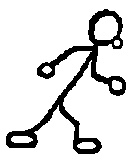 Ratings Explained
Vishwawalks
Day walks
Food
Funky Places
Future walks
Gear
Get Lost
Good reads
Links
Right to Ramble
Site map
Contact us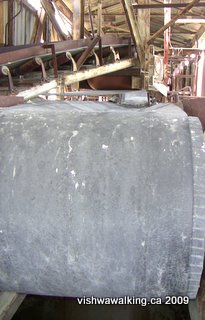 The end of a conveyor belt on the start to the top.





































Vishwawalking
Photos
Marmora Mine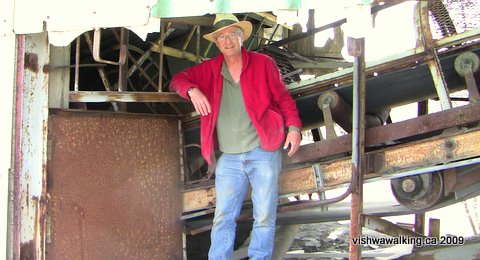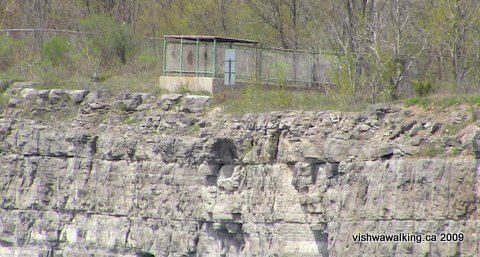 Above: The viewing cage, seen from heights of the abandoned building. If you only go this far, it's still worth the trip.
Right: Me, just after crawling down the little hole under the conveyor behind me.






The bays to hold the ore.

.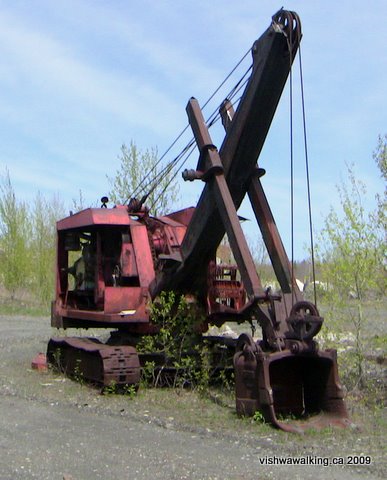 A large cylindrical container, that probably once stood on its end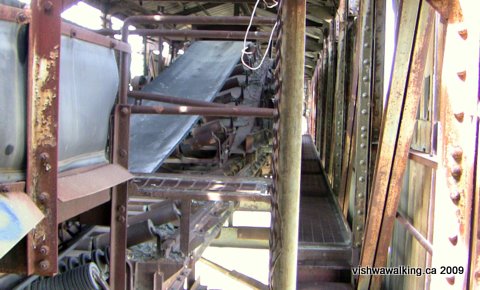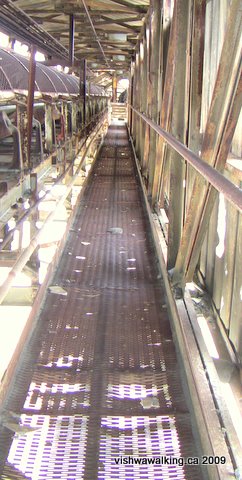 Above:
A rusting backhoe has seen better days.
Right: The ramp to the top of the building runs beside the conveyor.
Below: the same ramp looking down.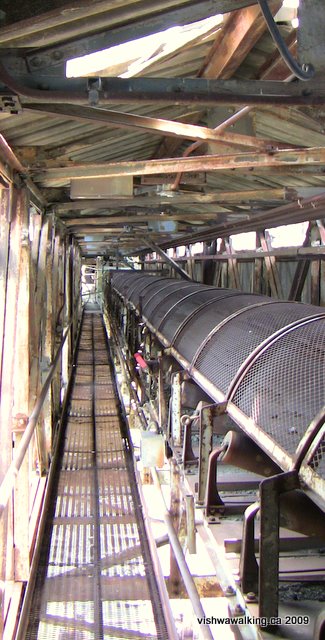 Below: The lake from the high building.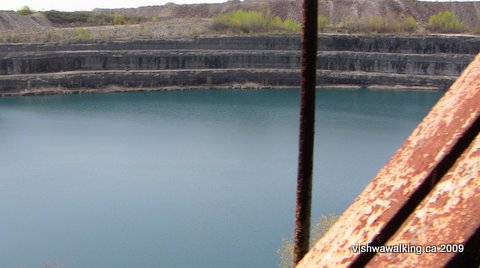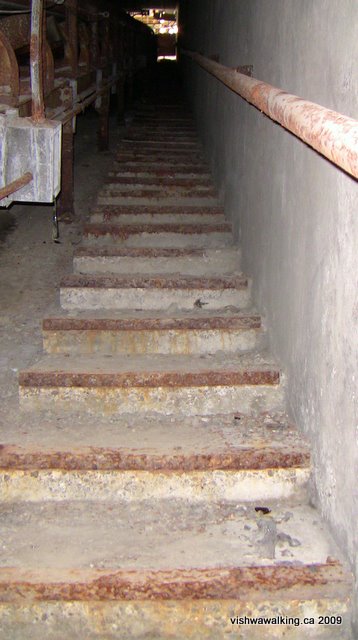 Below: Bits of a little room below ground.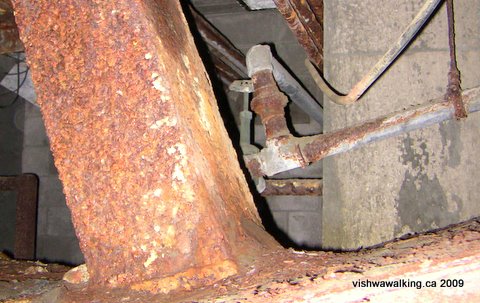 Above: rusting pipes in the little room below ground
.
I
n the larger building, a shaft continues for about 30 feet below ground. The steps above (seen looking from below) lead down to a little cement room with a few inches of water on the floor (below left). In the far corner of the room there is a stairway leading upward to the smaller building. By pushing the fill light far too much in the photograph below right, the dark corner reveals the stairs.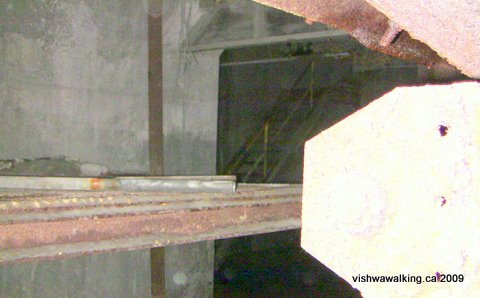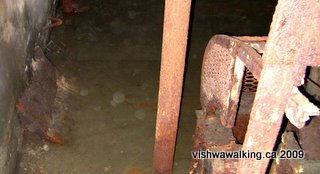 Below: conveyor rollers in the little room below ground.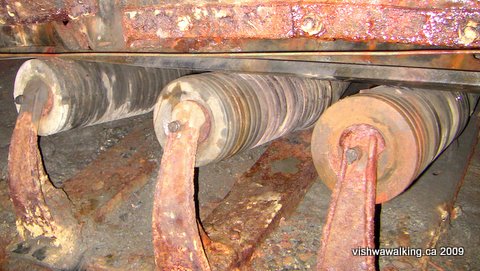 These rollers are part
of the conveyor system
in the shaft that runs
under the ground to
the smaller building.







I explored the shaft below ground with these three fellow explorers from Peterborough, Ontario. The middle guy is pointing to the little crawl space we had to negotiate to get to the shaft. I never did get their names.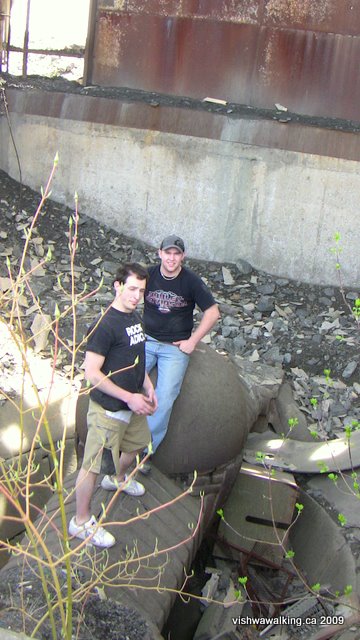 Left: This strange looking ball is in the smaller building, directly over the
little room at the end of the shaft we explored.

Below: Near the abandoned buildings and to the east are piles of talc, which are part of the operating mill next door to the mine.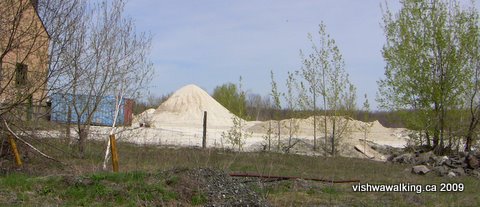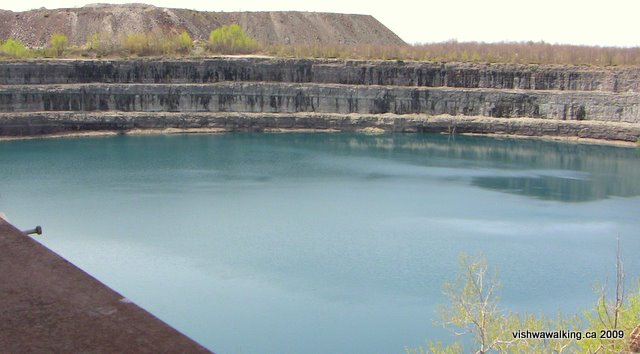 The lake, looking south from the high building. The quarry is in the background. Some years ago "Spider" Hastings, a local punk rocker in his seventies who is now unfortunately dead, envisioned a rock concert here, with a stage floating in the middle of the lake. I'm not sure if he investigated how you would keep audience members from toppling off the cliff.

Back to the Marmora Mines page Back to the main Get Lost page

Back to the top of this page


Home | Contact Us | Site Map


Page created: May 12, 2009
Updated: may 13, 2009