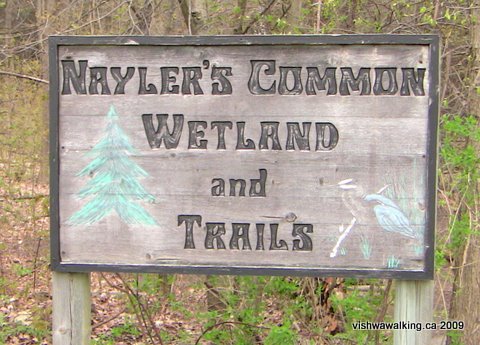 The trails here are in dire need of attention. There is (apparently) a yellow trail, a green trail a blue trail and a red trail, if the little squares on trees are anything to go by.
Nevertheless, if you're in Marmora and want a quick picnic, there's a picnic table near the parking lot.
For a walk, I'd suggest trying to follow the red trail, which follows the marsh. From the parking lot just off Highway #7, as you face the marsh, go left and try to follow the dots/squares. They'll lead you for about two thirds of a kilometre, at which point you'll hit Mary Street, east of a little bridge.
I found no information on this little park on the Internet beyond a remark in the minutes of a 2007 Marmora Council meeting noting that the Ministry of Natural Resources Junior Rangers were going to do some work on the trails. I guess they never got around to it.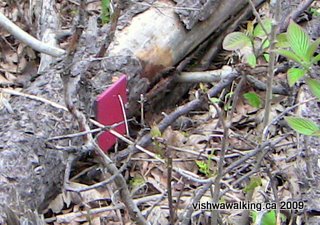 There are other trails lurking in the bush. If you head left (away from the marsh) at a blue circle, you can find a little stretch of grass between suburban residences, leading to a road. This trail will head back in the same direction as the red trail and you'll come out on Mary Street. In fact, if you want to make this a little loop, take the red trail, walk east a very short stretch and dive back into the woods when you see a double-track path. Keep an eye out for a sharp left turn as you reach the apex of a knoll. If you miss this, you'll head off into someone's back yard. In general, because of the lack of trails, just wander about and you'll figure it out.
A red trail sign lies on a fallen dead tree: more signs of neglect
Now... the real adventure is the
Marmora Quarry
on the other side of Mary Street. The quarry looms up as you approach Mary Street. It was a surprise adventure for me as I had planned a short and simple nature walk It's a separate tale for my "Get Lost" section, and not an acceptable trek for many walkers.
Naylor's Marshland, seen from the heights of the Marmora Quarry.
Location:
From the Highway #7 and County Road #14 crossroads in downtown Marmora, head east on #7 for just over 600 metres. The park is on the right (south) side. There's a little parking lot down a short drive.
Rating:
There's really not enough here to rate. It's a good spot for a leg stretch. The marsh has lots of birds and little animals busy going about their business. I saw signs of beaver, a number of smaller birds, and a few Canada Geese.