Here's a
9-minute YouTube
with videos of the trail from the trailhead to Faya Lake. It looks like a fine campsite.
At Head Lake I met a hiker named Brad who was having serious muscle spasms. He was in need of water, but had no filter. He had camped on Provoking Lake and I had briefly seen him earlier there. He was carrying a 50-pound-plus backpack with straps that were giving out.
I filled his bottles with water along with mine. I had already gone through two-and-a-half litres of water. We had a good chat. Brad thought it best that he rest for as couple fo hours. He had booked a second campsite for the evening on Harness Lake.
Brad said he was visited by a small black bear the night before, on Provoking Lake. He said he frightened him off by banging on pots with his machete (!) and by shouting.
There are several good campsites on the north side of Head Lake. The first is conveniently near the lake, but also right on the trail. The last is on the far eastern arm of the lake. The park seems to separate hiker campsites from canoeist campsites. I noted the campsites on the map, but don't really know if there are differences.
I took my first break of about 20 minutes with Brad, then moved on. Only now did I realize that I really could not pause long if I was to make it back at any reasonable hour.
The next section of the trail was my favourite, with glimpses of Head Lake to the south followed by Harness Lake. I passed several side trails leading to campsites on Head, followed by a brief stretch before encountering more sidetrails to Harness. At the 4.1 point, the trail heads back north, about halfway along Harness Lake, whose length runs roughly north to south. There's a fine campsite here. I rested for another 20 minutes, where I met three young hikers from Paris. They decided to camp here.
One of the Parisians had a hammock. When I travel alone, I usually use my
Hennessey Hammock
. However, here was a guy who made a hammock out of a cheap sheet and a couple of tennis balls. Brilliant.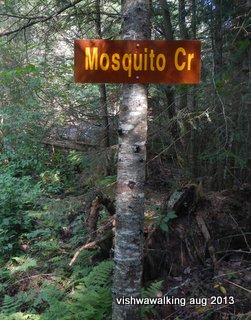 I started north from Harness Lake just before 3 p.m. I needed to do some serious hiking to get back to my car. The trail roughly follows Mosquitoe Creek at this point. Never was there a more appropriately named creek! The trail has a few ups and downs and several sharp rocky inclines, but generally you can make good progress here.
One online commenter (on the Google map link — see below) mentions that the water between this section of Harness and Provoking is "all stained bog water." S/he suggests boiling water or using a good filter. That seems mandatory for all Algonquin water; however, perhaps this water is particularly "stained." I don't know. To be safe, simply load up with water at harness.
At about 5:40, I finally reached the junction with the connecting link trail around Provoking Lake (a point I had reached before in the morning, when I made the 5-kilometre dash across the link).
Never was a creek so appropriately named!
It runs from Mosquitoe Lake (east of
Harness) through Fly Lake to Whitefish Lake.
Here deer flies, gnats and mosquitoes all live
harmoniously together. Unfortunately, in this
respect, harmonizing with nature here was
tough for this human.
After a quick text on my cell (reception is intermittant in the area, but was fine here), to tell my wife I was fine but would be late, I set off again.
In the next half hour, I found myself in that surrealistic situation, texting back and forth several times with my wife, pausing to let the mosquitoes and deer flies feast while my hands were busy. Strange technology in these deep woods!
From the last junction it's about three kilometres to the east end of Provoking Lake. There are a series of camping sites here along the northern edge of the lake. This is a great section of the walk, which I enjoyed, especially since, near the lake, the mass of flies were greatly reduced.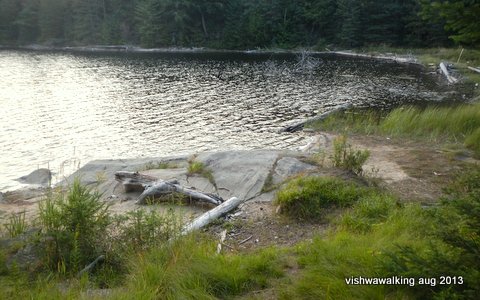 The trail follows the lake here, heading west and slightly south. Be careful as you get close to the turn back north; the blue trail signs are far apart and with the various well-trod path to and from camp sites or to the water, it's easy to lose the path. Generally, stick close to the water as the trail hooks up and over the last arm of Provoking Lake to reconnect with the access trail.
At the junction to the 3.9-kilometre trek home, you'll recognize features from your walk in. For me, it got dark enough that I had to use my flashlight for the last two kilometres. At that point (at the top of the first big hill), the trail is wide and well-used.
Just before the trail leaves the top of Provoking Lake it passes a little beach.
It looked like an ideal spot for a swim. In the evening at around 8. p.m. and with
miles to go before I sleep, I had to pass.
So ended my trip, at 9:30 p.m. Straight walking, with less than an hour in total for three breaks. After only half an hour sitting in my car, my legs were so stiff I was walking with a slow limping shuffle. Again, walk this trail over a few days if you really want to enjoy it.
Overall, it's a challenging trail. I could have used fewer sections walking near mosquitoe-infested bogs. Provoking, Head and Harness lakes were beautiful. At places, trail signage could have been better, but the trail is generally very clear.
Because of time, I missed the Starling Lake lookout, which apparently gives you a great view of both Starling and Lake of two Rivers. Here's
a video
of of someone who walked it; skip to the 1.40 minute point to see the lookout.
Rating: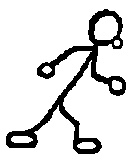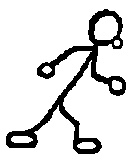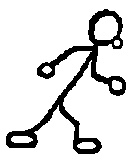 This is a strenuous walk.